by Chuck Reider
Today it is my pleasure to introduce you to two honorary members of the Reno Jazz Orchestra (RJO). They don't take the stage but are vital in bringing the RJO to your ears. Mike Eardley and Tom Gordon are local recording engineers with their own studios that record us, maximize the recorded sound quality, and mix all the tracks (each instrument is on its own track), and then make it ready for a CD or digital release. These guys know their craft and turn a rough gem into a polished product that sparkles. I think its magic, at least that is what they tell me! Let's start with Mike Eardley.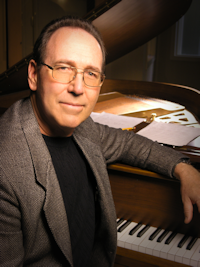 I knew Mike way back when he was the lead male singer for Hello Hollywood Hello and I was playing in the band deep beneath that huge stage. We never met during the shows as the band was tucked away, but I do remember going to his home to record at his first studio. For Mike, music started with piano lessons which graduated to playing in a local rock and roll band for fun. While attending El Camino Junior College he had no ambition of making music a career until the day he realized he needed two more college credits to remain a full-time student. What a difference two credits can make. He chose a singing class and thought it was to sing in a choir but found out the first day it was solo singing! As the teacher handed out songbooks he was heading for the back door when she asked what song he would sing that class. He chose America the Beautiful and bashfully sang as quietly as he could all by himself. She politely waited until he finished and then said "sing out, you're a singer". His music skills so impressed the faculty that they decided to find a scholarship for him at the University of Southern California (USC). Indeed, they did and when Eardley first stepped on the USC campus he was overwhelmed with the size of the campus and the quality of musicianship of his fellow students. USC pushed him hard but he was determined to keep up with the other students. His instructors were grooming him for a classical career, but when they presented him the opportunity to attend the prestigious Tanglewood Music Festival he instead chose to join the Los Angeles Civic Light Opera – Musical Theater Workshop.
That choice ultimately led his career path to Reno and Hello Hollywood Hello (HHH). After USC, Eardley continued singing professionally around Los Angeles where the gigs were always one or two days. One day a friend suggested he try his hand in Las Vegas and set him up with an audition. Eardley assumed it would be a one-one audition with the producer, but was in fact a "cattle call" of singers lined up to audition. He came out on top and was offered a six-month contract to sing in HHH. Six-months sounded like forever to an up and coming singer and he took the job immediately. That six-month job turned into eleven years and 7,000 performances!
Tanglewood Productions began in the basement of his home while working HHH as a way to assist with fellow performers' music projects. He says the first five years were about learning the basics of the craft as he only had a few formal classes in sound recording. Helping his friends led to producing music for industrial shows at the MGM. When HHH closed, he and his wife, Catherine, a dancer in HHH, had to make a choice; go on the road or make Tanglewood Production a full-time career. With a bank loan in hand they found leased space for Tanglewood in 1990 and in 2000 they purchased their current location on Brinkby Avenue. Here they provide four distinctly different services: voice-overs (commercials), video editing, video recording, and of course music recording.
Eardley earned a Grammy with his work on Winds of Samsara, Best New Age Album of 2014. He also served as Governor of the National Academy of Recording Arts and Sciences (NARAS) from 2008-2010, the organization that produces the GRAMMYs. In 2012 he launched the A.W.Tonegold Records label which has twenty CDs in its growing catalog ranging from jazz to classical. He is very involved locally, recording all of the Reno Chamber Orchestra concerts and the Reno Philharmonic on occasion, the Sierra Nevada Children's Choirs and Bella Voce. He also records the RJO and is working on our two recent concerts. You can check out his work on our Such Sweet Thunder videos on our website.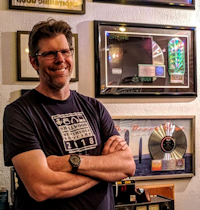 Tom Gordon is a hometown boy whose father was the lighting tech for Harrah's famed Sammy's Showroom for forty-one years. As a child he was surrounded by classical and Broadway soundtrack recordings, but upon hearing Kiss his music taste took a big turn. He turned his family's garage into a rehearsal space for his rock band (he plays drums) with lights, mirror ball and a rain curtain! Videos document those early years. At McQueen he was in the marching band and loved it which led to a scholarship to USC and their marching band. He was all in pursuing a music career until the day he took his first recording class at USC with Bill Beirsach. He realized, "hey I think I could do this" and that choice really benefitted his hometown. To this day his friends and faculty at USC continue to be a great resource.
After USC it was time to find a gig in the real world and that opportunity came quickly. Granny's House recording studio on Plumas Street, Nevada's first world class recording studio, had recently opened its doors. The head engineer did not stay long and when the assistant took over it was eighty hours a week and he needed an assistant of his own. Gordon had trained on gear identical to that at Granny's and a quick interview got him on board to work with the likes of Dr. Dre, Ozzy Osbourne, Willie Nelson, and yes, the RJO. He was mentored by the best in the business from Elvis' engineer Bill Porter to Olivia Newton John's engineer David Holman. He stayed on when the studio changed owners and became Sierra Sonics. In 1998 he struck out on his own and joined forces with Dr. Davis at Imirage Sound. Opened in 1982, it is the longest running studio in Nevada. Here Gordon has produced three hundred albums and soundtracks for twenty-four independent films. His reputation here is well known and all of his work comes word of mouth, no advertising necessary. Gordon seemingly works non-stop between Imirage, working with the band Whitesnake two days week, teaching at UNR, and on call for Mike Love of the Beach Boys and Doug Clifford of Creedence Clearwater. Did I mention he has recorded and engineered all four of our CDs starting in 1999; Reno Jazz Orchestra 2000, Bach to Blues, Live at the Nugget, and Bring Me the Funk of James Brown. His recent projects include the movie Broken Propeller about the 2011 Reno Air Race crash produced by Christine Lazzarini and a Whitesnake album Unzipped Acoustic Songs.
Gordon is always looking to the future of recording techniques and the latest is networked audio. Think of the internet where each connected room has all the functionality of the control room and these rooms can be anywhere. In fact, that is the system he is overseeing at UNR. The new arts building will have a fully functioning networked recording studio, an electronic composition lab, and Octophonic sets of speakers (you will have to ask him what that means). He credits a large part of his success to the talent right here in Reno, starting with the showroom musicians (hey, I was one of those guys) that created a large talent pool.
The work Eardley and Gordon do is amazing. Taking a rough stone of the recorded tracks and turning them into a polished gleaming gem is nothing short of magic. So glad they call Reno home and honored to work with them on all of the RJO recording projects.
Chuck Reider is the Reno Jazz Orchestra's Music Director
Lady Mac
(Recording Engineer Michael Eardley)
Nugget
(Recording Engineer Tom Gordon) - Check out one minute into the video and watch Tom in action with the crowd!