Guest Blogger – Tim Young, Reno Jazz Orchestra Executive Director
How do you make a difference? Start a jazz orchestra…like Vern and Karen Scarbrough.
In 2006, lifelong music educator Vern Scarbrough saw a need in Reno. Local students who were drawn to the performing arts and who wanted to go beyond the experiences available in their school programs could sing in a youth chorus or play in a youth orchestra. For students wanting to explore the world of jazz however, there were no local options available.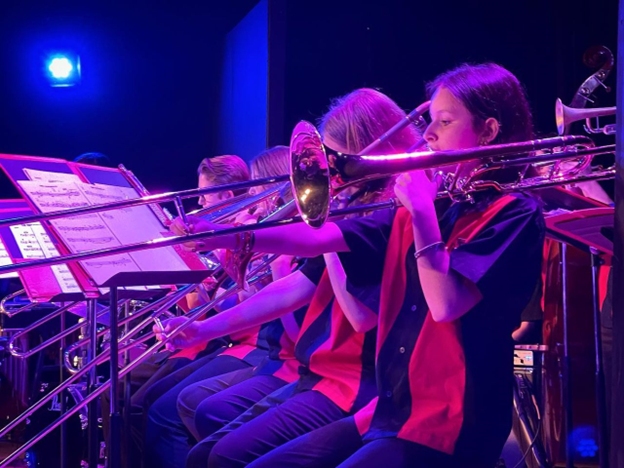 With the support of his wife Karen as administrator, and seed money for equipment, the Reno Youth Jazz Orchestra, or RYJO, was formed.
I first learned about the work of RYJO when my oldest son began playing the trombone. With no jazz band in his school he auditioned for RYJO and made it into the group, and I began going to his rehearsals and concerts. I soon saw that there were marked differences to other ensembles in the way the group functioned.
From the outset, Vern and Karen had a vision for RYJO that set it apart from other youth music groups. Rather than hold rehearsals for a semester with one culminating performance, the RYJO model is to perform as often as possible. Informed by his jazz training, Vern knew that more performances would deepen the students' understanding and abilities, particularly in the world of improvisation. As an added benefit, multiple performances means more audiences, including community members young and old, are able to enjoy the phenomenal talents of the students in the band.
Fast forward to today, and RYJO has become a Reno institution. Vern has seen multiple students progress, move to advanced study, and finally join the professional ranks, including the Reno Jazz Orchestra. So much of the work of RYJO and the RJO is shared, in fact, that it made perfect sense for the youth orchestra to come under the umbrella of the professional organization at the end of 2022.
Last weekend was one of the first performances of RYJO under the auspices of the RJO, which is shown in the accompanying photograph. Two full houses at the Good Luck Macbeth Theater were blown away by the music of this year's RYJO musicians.
The vision that Vern and Karen had 17 years ago has been realized many times over. Next though, Vern and Karen would like to see the group expand up to three orchestras so that more students can learn, and more jazz can be played and heard in Reno.
With the help of the new partnership with the RJO, and you, this is achievable. You are invited to join us at the RYJO fundraiser on July 15 and you can find out more our events page.