by Chuck Reider, Board President of the Reno Jazz Orchestra
The Reno Jazz Orchestra (RJO) just finished two fantastic concerts featuring saxophonist Tom Scott. Scott began his legendary career as a sideman on many albums before recording under his own name. Becoming a professional musician requires not only skill, but dedication and motivation to put in the work. Musicians honing their craft will practice four to eight hours a day and will continue to practice everyday while working as a musician. Have you seen the documentary "Twenty-Five Feet From Stardom" about singers backing up the stars? I think it is time for you to meet the exceptional musicians of the RJO and this blog is the start.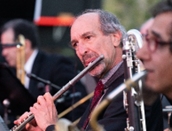 Saxophonist Jim Garaventa is a founding member of the Reno Jazz Orchestra since our 1997 inception. He has played in the Reno-Tahoe area since 1975, during an era of casino showroom bands that began in the 60s. I met Jim in the 80s and worked with him for years in the showrooms with many of them part of the Johnny Russell Orchestra. Jim loves the diversity in jazz music. He believes that "there are not clear lines as to what jazz is or isn't."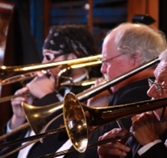 Trombonist Dean Carter joined the RJO in 2004. He was one of the first trombonists I worked with when I move to Lake Tahoe in 1978. Dean has played in the Reno-Tahoe area for over forty years. He's performed with Sammy Davis and worked with renowned signers Frank Sinatra and Aretha Franklin. Dean relates jazz to pure joy. "Jazz is built on the attraction and the environment it's in."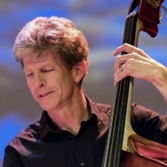 Bassist Hans Halt joined the RJO in 2005 and is also a composer and arranger. He began his career in the Bay area Latin bands. Since moving to the Reno-Tahoe area in 1985, Hans has been an active performer and composer with a variety of creative groups of all sizes. He was the Reno Harrah's showroom bassist for many years. After graduating from the University of Nevada, Reno, he became a music professor at the University. Hans has been around music since he was a kid. He played piano, guitar, electric bass and built his career on the upright bass.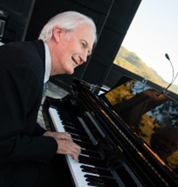 Pianist Bill Hecht joined the RJO in 2006 and has led a very diverse career. He was the pianist for the Engelbert Humperdinck 1983 World Tour, performed with Little Anthony and the Imperials, Chuck Berry and many more. Bill sang in various productions with Nevada Opera Chorus and Reno Philharmonic Chorus and composed and arranged music for many of the more popular IGT slot machines. I have had the pleasure of working with Bill in a variety of ensembles starting in the 80s and he also arranges for the RJO.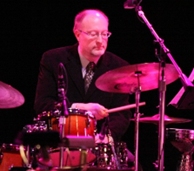 Drummer Andy Heglund joined the RJO in 2007 after Tony Savage went on tour with Englebert Humperdinck. Andy began playing professionally during high school for a steakhouse house band. He enjoyed the opportunities to learn different styles of music. Now, he enjoys teaching music at the University of Nevada, Reno. Andrew remembers his mom taking him to a concert featuring the drummer Buddy Rich, a musician "that greatly impacted his passion for jazz."
Saxophonist Dallas Smith joined the RJO in 2009 and has been a Board member since that time. He and his wife, harpist Susan Mazer, have performed together for forty years as a duo and founded Healing Healthcare Systems in 1989. Dallas also composes and has several albums to his credit. He has studied different styles of music, from classical to East Indian classical to American Jazz. He loves the impromptu abilities of jazz music and sound of big band. Dallas feels as though "time stands still when he plays with friends."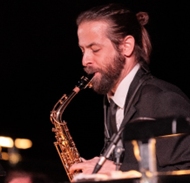 Saxophonist Karl Busch joined the RJO in 2018. He holds a Master of Music from the University of Wisconsin-Madison and has enjoyed a career that has taken him around the world and back again. He began his performing career as part of the Larry Busch Orchestra and continued to play his saxophone and clarinet with the Dubuque Symphony Orchestra, Madison Symphony, and the Wisconsin Chamber Orchestra. Enchanted with the opportunity to cruise around the world, Karl spent 25 years performing on stage with cruise lines. Today, he enjoys sharing his love of music at home with the RJO as band member and mentor, the Reno Chamber, and Reno Philharmonic.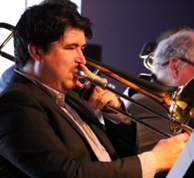 Trombonist John Bennum joined the RJO in 2017. He is a Reno native who left to study music and tour with rock bands coming home after seven years. John is a multi-instrumentalist that teaches guitar, bass guitar, drums, and of course the trombone. Enlightened by his great-grandfather, a dance band musician, John's inspiration and participation in jazz bands started in High School and continues today.
All the photos are courtesy of David Rocco, who has photographed us since 2009. Thank you, David. In future blogs I will introduce you to the rest of the band. Our summer concert series is in our rear-view mirror, but our fall schedule is filling up.
September 15th we will be performing at the May Arboretum Society music series.
October 21st the RJO returns to the Nevada Museum of Arts Sky Room to celebrate the release of our new album "Next-New Directions".
November 10th & 11th We will be performing at the Good Luck Macbeth theater where our jazz workshop students open the show.
Chuck Reider is the Reno Jazz Orchestra's Board President.