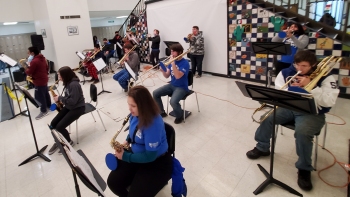 Coming February 12, 2022
The RJO's Annual
JAZZ IN THE SCHOOLS
(RENO, Nev.) January 6, 2020 --- The Reno Jazz Orchestra (RJO) will host the 22nd annual Jazz in the Schools (JITS) program on Saturday, February 12, from 8:30 am to 3:00 pm. Over 300 middle and high school musicians from over a dozen school jazz bands will perform for free in the Nightingale Concert Hall at the University of Nevada, Reno (UNR) campus.
"This program is part of the Reno Jazz Orchestra's community's educational outreach efforts. The all-day event helps to prepare the school groups to compete in the Reno Jazz Festival each spring and introduces them to UNR and the UNR jazz faculty," said Nichole Heglund, education director for the Reno Jazz Orchestra.
All the student Jazz in the School performances are free.
Over the years, Dr. Andy Heglund (UNR Music Professor/RJO drummer) has been instrumental in growing the event. This past year 17 big bands, 2 choirs, and 5 combos performed at UNR for two outstanding clinicians. This opportunity also helps the ensembles to prepare for the Reno Jazz Festival (RJF) in which they are rated. Over the years, those schools that have participated have shown a consistent improvement in their scores at the RJF.
For more information, contact Nichole Heglund at nichole.heglund@renojazzorchestra.org.
Thank-you To Our Sponsors
Healing Healthcare Systems, Inc., Chase International, EL Cord Foundation, Nevada Arts Council, National Endowment for the Arts, Tanglewood Productions, Art Works, City of Reno, Thunder Vick & Co., Montreux, and the RJO Circle of Friends and Fans support this event.