by Chuck Reider
This article is a first for me. It's not about jazz, but about our new partner sharing the old musicians' union hall, the Good Luck Macbeth (GLM) theater group. GLM recently completed its first production, "The Royale", at our shared building. That was quite a feat in itself as they only had about two weeks to transform the old rehearsal hall into an intimate seventy-five seat theater. This included building a stage, risers for the theater seating, installing the seats, theater lighting and sound system as well as start construction on a lounge. It was thrilling just to see them get this all done in time. I sat down with Artistic Director Joe Atack and Managing Director Chris Daniels to learn more about GLM.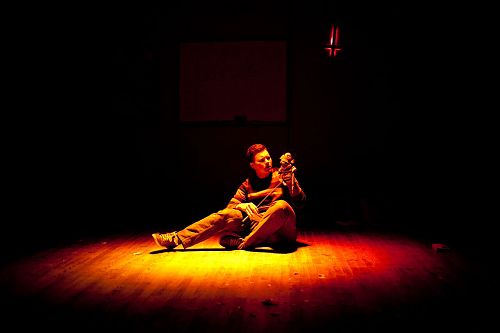 If you are not familiar with GLM they have been presenting theater productions for ten years in Midtown and are strong supporters of the Midtown district. Scott Reeves formed GLM in 2008 and handed off director duties to Chad Sweet. After Chad moved to the Reno Little Theater, Joe and Chris joined GLM in 2014. They both feel that GLM has proved itself through the resilience of staff and participating actors. Their new home is GLM's fourth location in ten years. Challenges that may have sunk other theater groups have taught GLM to survive and thrive. Case in point, they are adding an educational component to their program by finding a new niche in theatrical arts for exceptional students. Two of their board members are special education teachers are assessing the needs and developing curriculum for K-6 students. After development Jesse Briggs will be the lead teacher and share the curriculum with other teachers in preparation for start at the end of April.
GLM embraces contemporary theater. Both Joe and Chris feel that theater has the ability to reflect on what is happening in today's society. But finding the right play is challenging. It needs to fit their budget, the new performance space, and complements the strengths of the cast. They look to plays fresh from Broadway to premiere. Joe keeps current on what is going on in England, and GLM's Sandra Neace has launched a new initiative to solicit submissions from playwrights. Joe is also the Director of Education at the Lake Tahoe Shakespeare Festival and has the opportunity to speak "theater" with the fifteen to twenty actors who come to perform for the festival from all over the country. Networking is essential!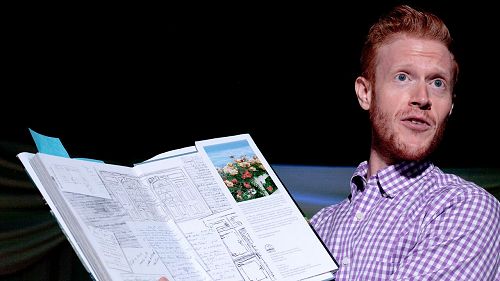 Chris noted that today's "golden age" of television has been a boon for playwrights, something I had never considered. With the rise of streaming and cable television, new content providers HBO, Netflix, and Amazon are hiring playwrights to write for them. Once-struggling playwrights are now able to pay the rent and write for the stage, bringing a wealth of great new plays to produce.
Joe and Chris love acting and theater, but got there two very different ways. Chris came to the theater as he says "late in life" (he does not look that old to me!). He was shy and had terrible stage fright until the night he took the stage as a drag queen for a 2009 charity event. Being someone else completely liberated him and encouraged him to study improv. He totally fell in love with performing improv. The synergy working with colleagues, the freedom to say outlandish things, and slaying a scene the audience goes nuts over hooked him. After seeing Amanda Alvey's production of Zanna and loving the play he had to meet Amanda and get a part in the next play. So, in 2010 he appeared in his first production at the Bruka theater. Chris expanded his horizons by writing. First murder mysteries and then a one woman show Golden Girls he performs each year. In 2015 he wrote his first play. Not bad for coming to the theater "late in life". As Managing Director of GLM he is responsible for the day to day operations and he knows he has done a great job when he is not noticed. Everything is running smoothly. He also does strategic planning and donor recognition for GLM.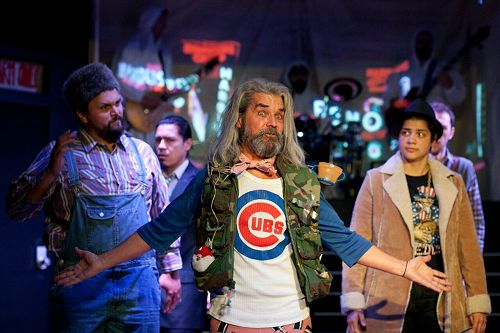 Joe was always an actor and he has a picture of himself at the age of four dressed as a shepherd. He remembers it as a not so pleasant experience with the kitchen towel wrapped around his head secured by a rope. But that did not deter him. At ten he played Scrooge in "A Christmas Carol". Growing up he had four actor friends to hang out with. One, Jamie Davis, has become a famous actor in England. Joe attended the Arden School of Theater, which at the time, was associated with the prestigious University of Manchester where he received a degree. Torn between acting or music as a profession he finally chose acting, but keeps his guitar chops up playing with the band Weapons of Mass Creation here in town. While still living in England, Joe visited his sister Catharine in 2006. Catharine was working for the Lake Tahoe Shakespeare Festival and Joe had the good fortune to be introduced to Cameron Crain, the director of the Nevada Shakespeare Company. Cameron offered him a job to work for the Nevada Shakespeare Company and Joe accepted, so in 2007 he moved to Reno. Joe has always been an acting coach starting in school and loves it still. His mother was a teacher and watching her he "absorbed" the teaching skills needed to share the craft.
The Good Luck Macbeth Company is excited to be a part of Reno's theater community. Reno is the theatrical biggest little city with GLM, the Reno Little Theater, and Bruka all active and successful theater companies. Three companies require sharing actors, directors, and sometimes plays! This season GLM and Bruka are co-producing Hedwig and the Angry Inch. It turns out that both companies received the rights to perform and instead of fighting out which company would produce it here in town they decided to join forces.
Good Luck Macbeth's next production, March 22nd through April 7th, is "The Curious Incident of the Dog in the Night-Time" written by Simon Stephens. It is an exceptional story about Fifteen-year-old Christopher has an extraordinary brain; he is exceptionally intelligent but ill-equipped to interpret everyday life. To learn more about the play and purchase tickets visit their website www.goodluckmacbeth.org . Their slogan, We Tell Stories, encapsulates all that they do and I was pleased to have the opportunity to share a bit of their story.