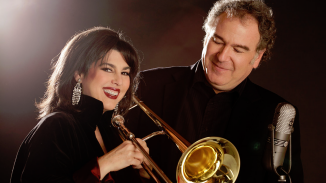 The RJO had a very busy summer season which concluded 8/30/2014 with a concert at the Hawkins Amphitheater featuring guest artists Bob McChesney and Calabria Foti. Here is a summer season wrap up from Chuck Reider.
It began 7/13 with the RJO backing vocalist Jakki Ford who performed songs from her newest cd (on which we backed her as well). With a great turn out, Jakki's panache and song styling, the concert was well received.
Next was "Bring Me the Funk of James Brown", a celebration of the 70's funk that James Brown popularized. The idea came to me about this time last year and we started to determine programming the first of this year. There are not a lot of "funk" big band charts commercially available so Bill Hecht, Hans Halt, Jim Garaventa, and myself arranged material to complete the program. This was special for me because I had written an arrangement to Herbie Hancock's "Hang up Your Hang ups" way back in the 70's when it was first released. I never had it performed because the big band rhythm sections of those days were jazz musicians not familiar with this new style. So I dug around in my archives, found the arrangement and had the band sight read it. Well, it needed a little polishing so I bought Finale (composition software) and set out to learn it and polish the arrangement. The rhythm section took hold and for the first time I heard the arrangement played as intended. Hats off to Bill Hecht, Joey Berger, Hans Halt, and Tony Savage.
Four Great Voices

Of course we needed singers, and we were fortunate to get four great ones, Trey Stone, Jackie Landrum, Pat Esters, and Maurice Allen. Anyone who saw the shows know they rocked the house start to finish. Rehearsals started in June and our first performance was 7/26 for our Artown performance at Wingfield Park. The park was packed and the audience was with us all the way enjoying a fantastic first performance by the band and singers. The following day we performed a private function at Montreux and the band and singers took the program to the next level and took the audience with them. Everyone was rockin'. Weather was a bit threatening but turned out quite pleasant.
Rainy Sand Harbor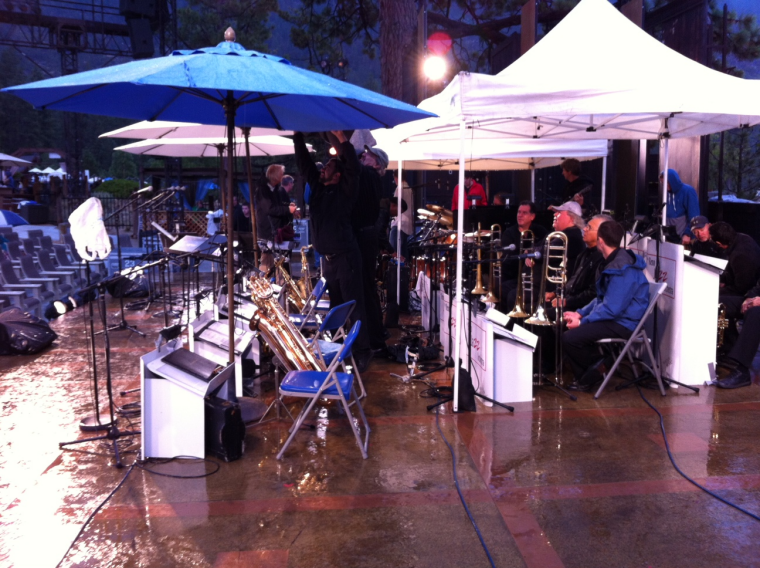 Not so for our last performance 8/4 at Sand Harbor. It started raining at 9am and at 2pm when I arrived to set the stage it was still raining hard. About 4pm it let up so we began setting up with fingers crossed. There was no way we could perform even in intermittent light rain so Bob Taylor, Shakespeare's Executive Director, came up with the idea of putting tents and patio umbrellas up to keep the band dry. It worked! And though there were only about 150 in the audience they were rockin as well, keeping our spirits up, and making another memorable performance. Those Tahoe folks are a rugged crowd.
Bob McChesney and Calabria Foti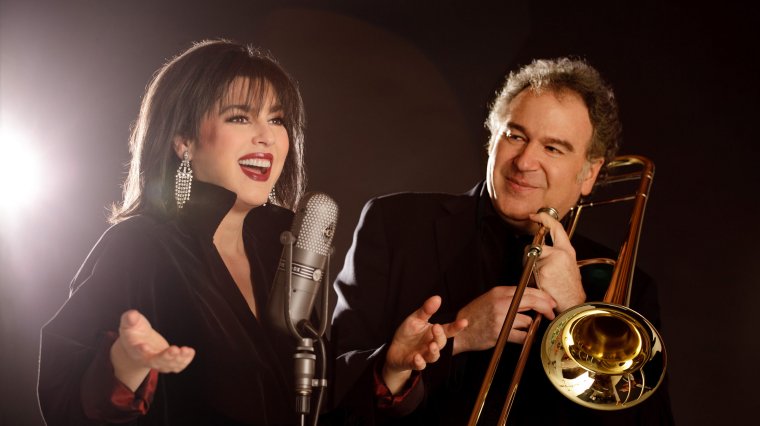 Bob McChesney and Calabria Foti are perhaps the most talented husband/wife team on the planet. Bob is a virtuoso trombonist and his wife Calabria uniquely interprets the Great American Songbook in a way reminiscent of Peggy Lee or Sarah Vaughn.
Masterclass at Billinghurst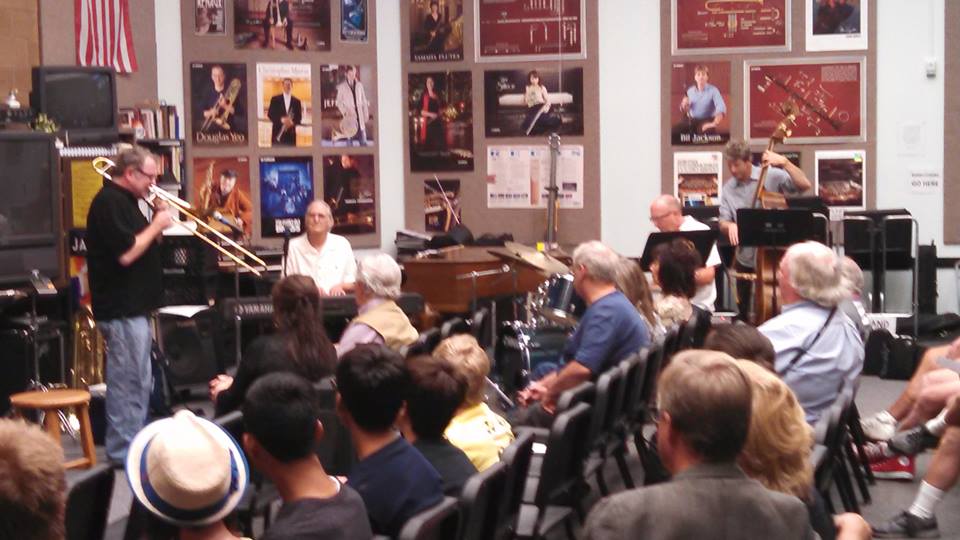 In the afternoon they presented a masterclass at Billinghurst Middle School (thanks Leonard Neidhold) discussing jazz improvisation and vocal song styling. The audience was quite diverse from middle school students to veteran trombone players in the area, but Bob and Calabria had a way to reach them all. If you remember, our last year's concert at the Hawkins was almost smoked out by the Yosemite fire. This year the weather was well behaved and quite pleasant so our audience came and really responded to an evening of classic jazz.
I am very proud of the RJO musicians and the quality of music we provide our community, but we could not do it without the help of all our "angels". Grants from Nevada, the City of Reno, foundations like the E.L.Cord and Hawkins get the ball rolling, but it is the private donors who kick us into high gear. Thank you Band of 100 and all our "Archangels" for keeping jazz alive and well in Northern Nevada.
A special thanks to David Rocco for our concert photos.
---