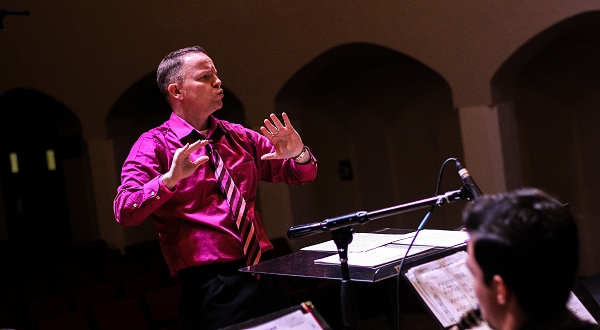 About David A. Brennan, DMA
David Brennan has been a performer and educator in the greater Los Angeles area for more than 20 years. From the Rose Bowl, to the Hollywood Bowl, the Super Bowl and beyond, he has enjoyed the good fortune of making music across multiple genres, with some of the finest musicians in the world. Dubbed "a cooler strain of jazz" by the San Francisco Classical Voice, he embraces the role of being a versatile saxophonist, taking great joy in every opportunity to perform at the highest level.
David's ensemble experiences include performances with the Los Angeles Philharmonic, Long Beach Opera, New West Symphony, Reno Jazz Orchestra, Reno Philharmonic, Santa Barbara Symphony, Fresno Philharmonic, West Hollywood Orchestra, Santa Monica Civic Light Opera, and Jacaranda: Music at the Edge. Onstage and in the studio, he has had the privilege of working under the direction of many renowned composers and conductors, including Marcelo Lehninger, Nir Kabaretti, Chris Hajian, Christopher Rountree, Andreas Mitisek, Bill Conti, Patrick Williams, Harry Gregson-Williams, Bill Cunliffe, Alex Geringas, Rachel Worby and the great John Williams. His performance career also encompasses recorded music for (and appearances in) motion pictures and television, including A Bright Shining Lie, Pumpkin, Road Trip, Don't Say A Word, Shrek the Halls, G.I. Joe: The Rise of Cobra, Chicken Squad, Fargo, and Home: Adventures with Tip and Oh.
Currently, he is a member of the Encore Saxophone Quartet, which performs regularly in concert in Southern California, was a recent Beverly Hills National Auditions Concert Series winner, and garnered critical acclaim during a concert tour of China in 2019. He has also performed with popular musicians such as Guster, The Mills Brothers, Nick Waterhouse, Heidecker and Wood, Kelley James, Matthew Morrison, Tom Scott, Rashawn Ross and Boyd Tinsley (Dave Matthews Band), Lorna Luft, Barry Manilow, and Seth Macfarlane. In addition, he has had the honor of playing for President Bill Clinton and worked as a consultant for the hit ABC show "Grey's Anatomy."
David holds the unique distinction of Bachelor of Arts, Master of Music and Doctorate of Musical Arts degrees, all from the University of California, Los Angeles (UCLA). His studies included emphases in saxophone performance, conducting, and music education. He currently works as a Lecturer in Music at both UCLA and Santa Monica College. Additionally, he has served on the faculties at La Sierra University (Riverside, CA), Pepperdine University (Malibu, CA) and The Master's College (Santa Clarita, CA).
Dr. David Brennan is proud to be an endorsed Performing Artist with the Conn-Selmer Company and D'Addario Woodwinds.
---
NOVEMBER: Concert #1
Such Sweet Thunder
David Brennan, Guest Music Director
Shakespearian Actors will join the RJO for a performance of Ellington's Such Sweet Thunder, and the students of the 2023 Jazz Workshop will be introduced.
November 11, 2023
7:30 PM
November 12, 2023
4:00 PM
Good Luck Macbeth Theater
124 W Taylor St
Reno, NV
---
---