by Chuck Reider
May 18th and 19th the RJO will perform at our new home "the Union Hall" in Midtown. Our maiden voyage! We share the hall with the Good Luck Macbeth theater company and they have done a fantastic job turning the old hall into a wonderful seventy-five seat theater. Their current show is Hedwig and the Angry Inch which runs through May 12th. Our first concert features the big band music of RJO bassist and member of the UNR jazz faculty Hans Halt. You will hear his original compositions, arrangements of great jazz standards, and transcriptions. There will also be some special guests, but more on that later.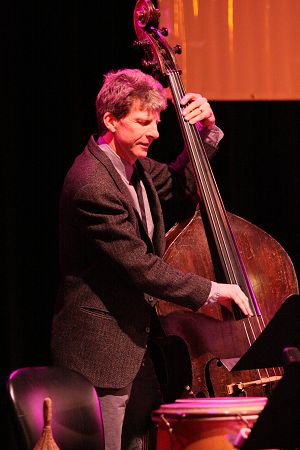 Halt has been composing music almost as long as he has played the bass. He was 19 when he wrote his first composition in his home town Buffalo, but it was not until he moved to San Francisco in 1980 and began honing his piano playing that he became serious about composing. Inspiration for compositions come from many avenues. Sometimes playing the guitar, or a bass line groove, or maybe just a simple two bar chord progression. Halt loves harmony and chords and typically the two -bar progression will grow into the framework of a full song. Then comes the melody to place on top. His composition "Hansepts" was written specifically around a traditional Indian rhythmic pattern. Sometimes it is a setting. "For the Birds" was inspired by birds outside his window singing on a rainy day. "Trinity River" a drive through the Trinity Alps of northern California. Halt listens to all styles of music and other musicians works inspire him to compose original pieces. Some composition come in one sitting. "Stanley T" is an example, while others take many hours/days to flesh -out that two-bar seed of an idea into a full-fledged composition. Halt noted that the more you compose the more challenging it becomes to write something new and different.
Halt began writing for big band while studying with for his master's degree at UNR. Matt Harris was his instructor, who by the way, performed with the RJO last Labor Day weekend as pianist for vocalist Denise Donatelli. Halt learned a lot about big band arranging from Harris and his first arrangement was a student project "Sophisticated Lady". An original composition typically means you wrote the melody as well as all the supporting parts, but there is a tradition in jazz to arrange other composers' material. Sophisticated Lady was written by Duke Ellington, but Halt's arrangement gives it a whole new feel. Another of his arrangements you will hear at the performance is Carlos Santana's "Yours is the Light". He arranged this for the RJO's concert of Santana's music and his influences. Halt never writes for big band, but rather writes the composition and then arranges it for big band. He has learned as he has matured as a big band arranger to write less and not overwrite. Too many notes can distract and get in the way of a good composition. The more experience he has writing and arranging for big band the more he can share with those who study big band arranging with him at UNR.
Halt also transcribes arrangements, which may be the most difficult task. Here he diligently listens to a recording of a piece and writes down note for note what is on the recording. He needs to hear which instruments are playing which parts. This is detective work at the highest order and Halt is a master. Two examples on the program are from Miles Davis' album Porgy and Bess. "Gone" and "Gone, Gone, Gone".
I asked Halt about soloing on the bass, as you will certainly hear a solo or two on the program. He said it took him a while to become an accomplished bass soloist as the primary function of the bass is to support the time and feel of the band. When the bass takes a solo the bottom drops out as there is no instrument to take that space. So a bass player needs to be more self reliant than say a trumpet or saxophone soloist.
The RJO is excited to be a part of the growing jazz community. The Reno Jazz Festival (last week), the UNR jazz program and faculty, and numerous clubs hosting jazz are making Reno a jazz place to be. This is illustrated by the Jazz Education Network (JEN) hosting their national conference in Reno January 2019.
And now a bit more about our special guest artists. The RJO initiated a student jazz workshop each Saturday this spring focusing on jazz improvisation. Three of the students participating were featured in column last month. Ben Ghusn, Will Casacelli, and Chazz Dunn all performed in the All State Jazz Band in Las Vegas. After this week's jazz workshop I asked them each two questions: How did jazz find you and what was new or different about the All State experience. The answers to the first question were varied. Ghusn played bass clarinet in the Pine Middle School concert band and had a crush on a girl who played in the Pine jazz band, so he took up the saxophone to join the jazz band! That got him started but it was one day he was with his mom driving over Windy Hill, just above the Hawkins Amphitheater. The windows were down and they heard a band playing. That sound captivated him; it was the Reno Youth Jazz Orchestra (RYJO) playing. Mom found a place to park and they went in to hear RYJO. After that Ghusn was hooked on jazz and joined RYJO. Casacelli was inspired by his older brother Chris who plays the saxophone. He showed younger brother things to try on the trumpet which recordings to listen to and they played together at home. Dunn's mother was always playing jazz recordings from Louis Armstrong to Miles Davis. All three had similar views on All State. Meeting great new players from the Las Vegas area and to perform under the direction of Ellen Rowe, the guest director from the University of Michigan were experiences that will stay with them. These three musicians and others participating in the jazz workshop will open our 5/19 performance featuring the music of Hans Halt.
Expect a varied program for our first concerts at the Union Hall 124 West Taylor Street. From Brazilian jazz, hard swing, latin jazz, transcriptions of the great Gil Evans' Porgy and Bess arrangements to the up and coming jazz artists in our community. It will be a great night of jazz in an intimate seventy-five seat theater. For more information and to purchase tickets visit our website www.renojazzorchestra.org
Chuck Reider is the director of the Reno Jazz Orchestra.