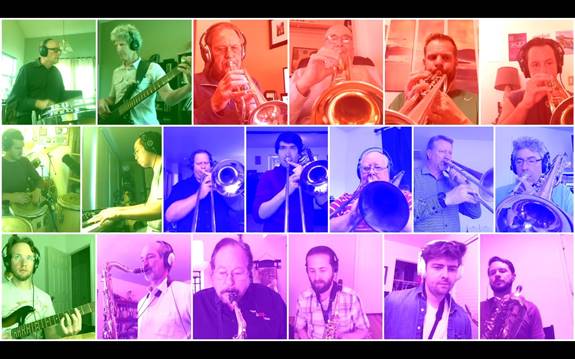 by Chuck Reider
The Reno Jazz Orchestra's (RJO) Artown and Sand Harbor summer concerts were to be "Earth, Wind, and Fire Now, Then, and Forever – Celebrating Earth, Wind, and Fire (EWF)" and, of course, they are postponed till next summer. Prior to cancellation we were well underway preparing the program; music chosen, music arrangers writing the material for the orchestra, and singers rehearsing. Instead of waiting till next year we decided to use the prepared material during the time of social distancing. Our first project was three EWF songs recorded virtually. With the assistance of Steve Martin's CPG music you can visit our Youtube channel to check them out. Fun to watch, they are not professionally recorded as each orchestra member recorded themselves on their phones.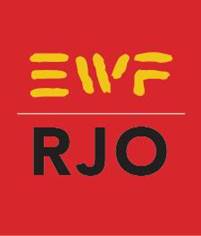 So what next?
After several brainstorming session we thought perhaps there would be a way to record all the material professionally and my next few articles will cover that process. We discussed this with Tanglewood Production's owner Michael Eardley and have come up with a plan. Typically a jazz orchestra would assemble in one large room and record the material. This allows spontaneous interaction between soloists, rhythm section, and horn sections. The heart of jazz. This project will be recorded differently with each section coming to the studio to record their parts, starting with the rhythm section. The trumpet, trombone, and saxophone sections will then take their turns recording their parts. Our singers Lori Johnson, David Wells, Margret Wright, and Jason Carthen would be next. Each in individual vocal booths. The soloists will be the icing on the cake and be the final recording step after which we will edit and mix the recordings (more on that later). Though not conducive to spontaneous interaction this method is regularly employed for commercial music of all kinds. In today's world you don't even have to be in the same recording studio. The rhythm section tracks could be sent to any professional studio for the next layer. Back in the day we joked about phoning in your part and now you can! You ask why record now?
First of all we want our musicians to be engaged and if we can't do it live we can bring them into the studio to record and be paid for their services. The "gig economy" has taken a big hit and with the extended cancellation of concerts musicians are no exception. Making lemonade out of lemons we will have a CD to offer next year during our live performances of this material. We also plan on offering live streaming of select recording dates to our supporters for those who want to experience the recording process (again, more on that later!). The RJO will have lost about $30,000 in concert income after expenses this year which is a large portion of our budget.
For those who may not be familiar with EWF here is a brief introduction. Founded in 1969 by Maurice White, EWF brought a new spirit of hope and inspiration to troubling times through their unique blend of R&B, funk, jazz, and latin music. White began his career as a session drummer for legendary Chess Records, home to great Chicago bluesmen such as Muddy Waters and Howlin' Wolf. It was there he met pianist Ramsey Lewis and joined his trio in 1966. He decided to move to Los Angeles and asked his bassist brother, Verdine, to join him in L.A. and shop demo tapes. It was in 1975 they got their big break when asked to record the soundtrack to a new movie "That's the Way of the World". The movie bombed, but their album became a number 1 Billboard hit. Seven Grammy Awards, four American Music Awards, induction into the Rock and Roll Hall of Fame, and 90 million albums sold, forty years later EWF continues to record and tour.
Now let me introduce you to our arrangers who take the original song and adapt it to the orchestra. RJO bassist Hans Halt is a Reno music stalwart. Starting his career in hometown Buffalo New York he moved to San Francisco where he fell in love with latin music under the tutelage of Pete Escovedo. A Tahoe gig with Escovedo convinced Halt to move to Reno where he earned a Master's Degree at UNR and has been an instructor since 2000. Halt has arranged "Imagination" and "That's the Way of the World". Trumpeter Julien Knowles is a relative newcomer to Reno recently graduating from UNR. He will not be here much longer as he was accepted into the prestigious Hancock Institute in Los Angeles and will work toward a Master's Degree there. Note, he was one of only six students accepted this year from students auditioning from all over the world. He is a very creative writer with a unique voice and is arranging "Reasons", "In the Stone", "After the Love has Gone", and "Spirit". I took a hand in arranging as well bringing "Shining Star", "Getaway", "Pride", and a medley of "Let's Groove Tonight, Fantasy, and Boogie Wonderland". We purchased three arrangements from Chris Walden, a very successful Los Angeles composer/arranger. The Oscars are one of his clients! The tunes, "Got to Get You into My Life", "Love's Holiday", and "September". If you are not familiar with any of these songs it is time to head to a record store (oops not many of those left) or Youtube. That is your homework assignment for this month and next month I will give you an update on the project.
Chuck Reider is the Executive Director of the Reno Jazz Orchestra
For more information about the RJO visit www.renojazzorchestra.org
Find more information about the Earth, Wind, and Fire recording project.
RJO Virtual Recordings