Summit Dates: July 19th - 25th, 2020
by Chuck Reider
Classical Tahoe is bringing the Brubeck Jazz Summit to Sierra Nevada University this summer which is the main event for this month's column, but first a Reno Jazz Orchestra (RJO) update. As mentioned in my previous column, our student workshop director, Dylan Coleman-Tunstall, has created online resources and the students are meeting online. We are working with Steve Martin, owner of GPG Music, to create a virtual recording of the beginning and advanced sessions to take the place of students opening our scheduled May 30th and 31st concerts at the Good Luck Macbeth Theater (fingers double crossed that may still happen). Last week we experimented with a virtual mentor session, so instead of an RJO musician visiting a school we set up a Zoom meeting for students from several schools to join and learn a little more about jazz. The RJO is working on material for our summer tribute to Earth, Wind, and Fire (EWF) and since we cannot perform live for a while longer we are working with Martin for a little EWF teaser featuring the band. We miss you all! Now for the main event.
I had the pleasure of speaking with Simon Rowe, Brubeck Jazz Summit Artistic Director, about the Summit and here was what I learned. Jazz legend Dave Brubeck and his wife Iola attended the University of the Pacific (UOP) graduating in 1942. The Brubeck family felt that UOP would be great place to create a living legacy in education, presenting and scholarship. So, the Brubeck Institute was created and it flourished from 1999 to 2019 with Rowe directing from 2011 to 2016. It was Chris Brubeck's (Dave's son) working relationship with Classical Tahoe Artistic Director, Joel Revzen, that started the dialogue to bring the Brubeck Jazz Summit to Tahoe. Two years ago, Classical Tahoe (CA) invited the Brubeck Brothers Quartet to perform at the festival. It was such a success the festival decided to have an annual jazz performance, last year singer Jazzmeia Horn thrilled the audience. After a year of planning, Classical Tahoe and the Brubeck family were ready to bring the Summit to the Sierra Nevada University campus which includes the use of the CA festival pavilion for performances.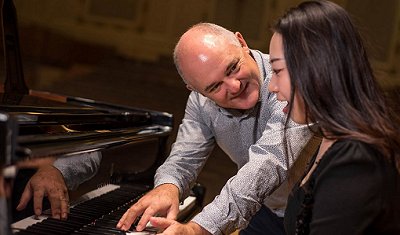 Rowe's vision for the Brubeck Jazz Summit is "to gather masters and apprentices from around the world so that we may practice our craft and hone our art and share it with others in workshops and performance situations… I am always delighted by the magic that happens when we meet and work with great teachers and have the opportunity to inspire and be inspired by students of different backgrounds." The Summit recruits up to thirty exceptional high school students from around the world. Students fill out an application and send in a recording of them performing three of seven songs from the audition repertoire. Starting up at a new venue is challenging so Rowe has relied on his current network of professional relationships from the Hancock Institute in Los Angeles to the Jazz Education Network as well as organizations like The Western Australia Jazz Orchestra (Rowe grew up in Australia, a bit more about that later). He makes personal calls to teachers and mentors, in fact he contacted me to reach out to northern Nevada students. Next it is time to recruit staff. He relies on his experience working with jazz educators from around the world. Great musicians do not always make great teachers, so he looks for a combination of teaching experience, technical skill, and a teacher's ability to work with small combos and share the joy of jazz. When students arrive to begin their week-long experience, Rowe and staff listen to them perform and then assign them to a small combo that will be their "team" for the week.
So what is a typical day for students attending the Summit at the Sierra Nevada University campus? Breakfast followed by a ninety-minute masterclass. For example faculty member Sylvia Cuenca's approach to rhythm in jazz or sub-groups of specific instruments like Jason Hainsworth discussing saxophone technique. The offerings are different each day. Afternoon is a three-hour rehearsal with their assigned combo where students are introduced to Dave Brubeck's songs and concepts. Faculty rotates through each combo so students get to know and experience each faculty member's approach to jazz improvisation. Late afternoon is recreational time, maybe a little frisbee throwing or a dip in Lake Tahoe. After dinner there are faculty performances for the students and community in the Classical Tahoe Pavilion after which a jam session with the students. Rowe says one of the most challenging tasks is getting all the excited students back to bed to get rested for the next day. At the end of the week each combo performs in the Pavilion. Rowe does not think of the week as classes, but rather a complete experience that students will take with them for the rest of their lives. He concurs with author Ken Robinson who talks about the journey from being born to what we are born to do, a journey toward finding your "tribe". The Summit is one of many experiences that will take them there.
Rowe's journey was quite interesting, starting in Sydney Australia learning the piano. His mother was an accomplished pianist and singer so there was music in the home all the time. The family's stereo system was a central part of the home where Rowe heard an eclectic musical mix from Maria Callas to Louis Armstrong. Though the piano was his first instrument it did not captivate him like the trumpet did in the fourth grade. It felt like destiny to him and he has never lost that excitement. Australia follows the British brass band system with each community hosting a brass band. His was the Lane Cove Municipal band and Thursday was lesson day by one of the gentlemen of the band. His first brass band tunes were hymns and the harmony was magical to him. He progressed through the brass band ranks to a regional brass band, which at the time was a feeder to professional orchestras. By sixteen he had performed the Hayden trumpet concerto and was doing professional gigs, but it was a serendipitous event that changed his career path.
His father, a noted geneticist and biochemist, was invited to be a guest professor at Baylor for six weeks in 1977 so the family all packed their bags and went to Houston. There he met a girl (isn't it always a girl!) who invited him to visit her high school. That school was the High School for the Performing and Visual Arts. He went to visit, but was initially put off by the makeshift campus in a rough part of town. As he began to explore the school, he heard Count Basie music and followed his ear to the band room where a student big band was rehearsing. He found a new musical home and at sixteen he was determined to stay in Houston. After much negotiation with his parents and principal they permitted him to stay. The rest as they say is history. What followed was college, performing with greats like Dizzy Gillespie and Dianne Schuur, forming his own record label and trio, and a career as a college educator. Having recently founded the Roots, Jazz and American Music (RJAM) program at the San Francisco Conservatory of Music, he continues to take inspiration from his mentors, sharing it with the next generation.
The RJO is thrilled that Classical Tahoe is bringing the Brubeck Jazz Summit to Incline Village and are looking forward to all the faculty and student performances.
Chuck Reider is the Executive Director of the Reno Jazz Orchestra