It is time to feature two old friends in my jazz world. I have had the pleasure of working with Hans Halt and Bill Hecht for over thirty years (I can't believe I just wrote that!) in a number of different jazz settings. Hans played in my jazz sextet in the 80s-90s and I still remember recording tracks at Bill's house using a 4-track reel to reel recorder way back in the day. For the last ten years they have both performed with the RJO as a part of the rhythm section and are featured on our last two CDs.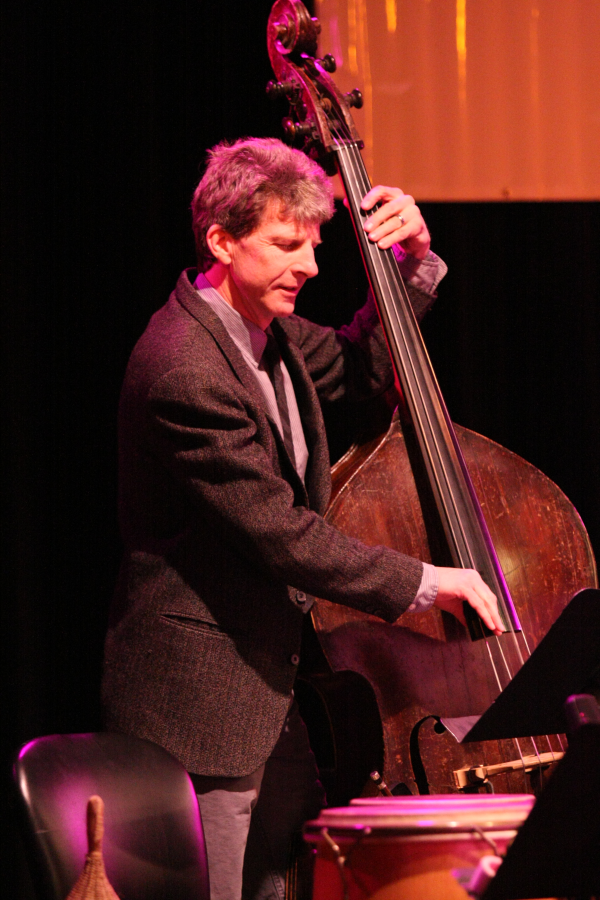 Hans was born into music. Both his mother and father are musicians and Hans attended Buffalo Philharmonic rehearsals while still in the womb! That is an early start. His dad played trombone with the philharmonic and his mother was a piano teacher. Mom was his first piano teacher. At twelve he tried classical guitar, but it was when he found rock and roll that music took hold. He attended a private school where his mom taught, and there was a rock band there looking for an electric bass player. So, his dad bought him an electric bass and his music career began. In high school he worked three nights a week with a top 40 band at a local supper club, but Hans wanted to learn more about jazz. Fortunately for Hans there was the Buffalo Jazz Workshop where students could "sit in" with professionals like Sam Falzone of Don Ellis big band fame. He also had to the opportunity to play at Buffalo's Colored Musicians Club. The club was originally the Colored Musicians Union prior to integration and was home to the Buffalo jazz scene. After integration it became a jazz club which is still a vibrant part of the music scene in Buffalo today. At eighteen Hans met Richard Kermode, formerly Santana's keyboardist, who taught him Latin music, a passion he still has today. At the age of twenty he moved to San Francisco and played with Benny Velarde's Super Combo and in the 80's began working with Pete Escovedo.
How did Hans find his way to Reno? Well, he played a gig at Lake Tahoe with Pete Escovedo and fell in love with Tahoe. He met a Rhythm and Blues band while there and was offered a gig. They were busy both summer and winter and even went on tour with Dave Mason of Traffic fame. Tahoe was beautiful, but Reno offered more and varied work so Hans moved to town to play in the Harrah's Reno showroom orchestra and a wide variety of jazz gigs. It was at Harrah's that Hans met Larry Engstrom, the new jazz instructor at UNR. Larry encouraged Hans to go to UNR where in 1994 Hans enrolled to complete his Bachelor's degree and later earn a Master's degree. In 2000 Larry offered him a teaching position at UNR which he holds today. He teaches jazz improvisation, composition, piano (Hans is also a talented pianist), and bass. His goal is to inspire his students to put in the work, adopt a good business sense, and keep their passion for jazz. Hans knows that talent by itself will not lead to a music career and his strength is teaching the fundamentals.
Today Hans is still performing, of course with the RJO, but also with his Latin band No Comprende and the UNR jazz faculty quintet the Collective. It is with the Collective that he has the opportunity to perform with the Reno Jazz Festival featured artists like Don Byron and Donny McCaslin. He recently toured with Art Lande and Paul McCandless. Hans has begun studying Indian scales and a variety of music styles of the world. I can't wait to hear how he integrates this into his music.
Bill Hecht grew up in the Bay Area and his mother was his first teacher and mentor. His mom studied at New York's High School of Music and Art, best known as the backdrop for the musical Fame. Since there was a piano at home his mother found great classically trained piano teachers for Bill until, in middle school, he became interested in jazz. His teacher, not familiar with jazz, recommended bay area jazz pianist John Marabuto.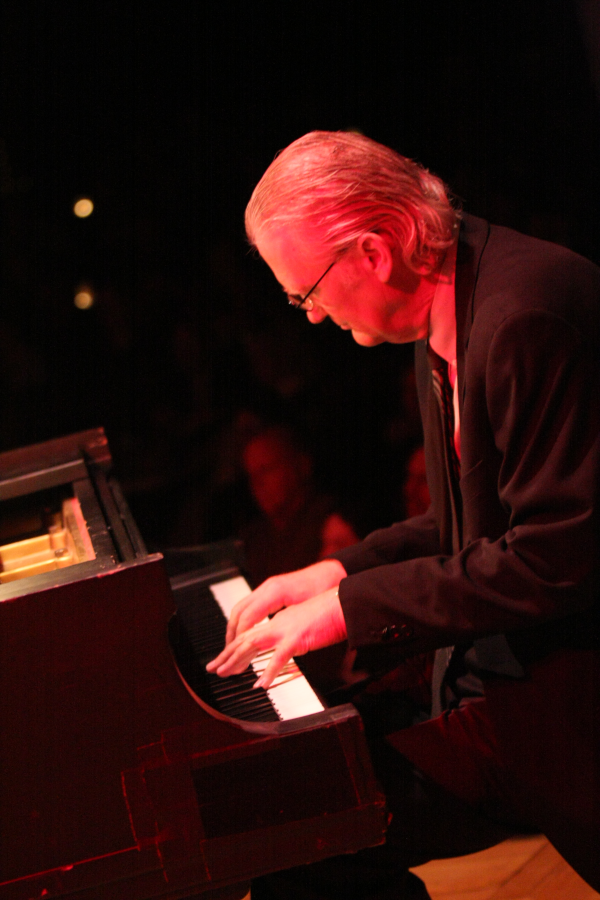 Bill wanted to play like Herbie Hancock and John began to show him how. Bill's mother, besides finding the best teachers, took him to great jazz concerts like the Miles Davis group. In high school he joined a band that included the future guitarist for Cold Blood, Michael Sasaki. A defining moment for Bill came at the Reno Jazz Festival where his El Cerrito High School jazz combo, competing with high school and college combos, tied for first place and performed at the Pioneer Theater along with all the award winning bands. Bill said it was an incredible audience of students whose whoops and applause felt like rain. You could physically feel it! After high school he continued to play with bands and went to San Francisco State for a semester and then a couple of semesters at UC Berkley. One day in 1973 was another defining moment. He had signed up for too many classes at Berkeley, knew he was not going to be able to keep up his grades and it was too late for him to drop classes. That same day three different bands asked him to join, which he took as a sign to commit to music 100%.
The band Bill was playing with was looking for a better drummer and met Marley Waak who was working in Harrah's Forest Lounge. Marley found work in Tahoe for Bill and a couple of his musician friends and they all started touring the region playing pop jazz. After a few years Bill met a local jazz great, pianist Bill Anderson. Bill Anderson had steady work at Circus Circus and asked Bill to substitute for him on occasion. That work introduced Bill to Reno where he has lived ever since. Here he got married to a singer, worked with her, which led to working with great Reno musicians. Drummer Tony Savage got him a gig in 1983 with Engelbert Humperdinck and Bill toured with him for a year. On his return he formed a group with Danny Leoni (bass), Steve Self (drums), and Mark Speights (guitar) where they regularly performed at the Peppermill and Flamingo Hilton. There was plenty of work… until Indian gaming came to California. Work became scarce and Bill went back to school at UNR and received a degree in computer science. With that he began work at IGT as a programmer and when slot machines could play high quality music he opted to start composing music for them. This expanded his music horizons as the music ranges from movie themes to Egyptian music. He even worked on and perfomed a slot machine concerto with the Reno Philharmonic under the direction of Barry Jekowsky.
Bill has been a great asset to the Reno Jazz Orchestra on the keyboard and arranging material for "The Jazz Soul of Porgy and Bess" and "Bring Me the Funk of James Brown" programs. His most memorable gig with us was our holiday concert featuring vocalist Tierney Sutton. Accompanying a singer on piano is an intimate artform in itself. Many times it is just the pianist and vocalist listening and reacting to the subtleties of lyric, melody, and phrasing, something Bill excels at.
I want to leave you with a story Bill shared that highlights why he, and many of us, became musicians. The support of our parents. Remember when Bill was playing at the Reno Jazz Festival? His mother was in the room at the combo competition performance in a smaller room inside the Pioneer Theater. She was so thrilled with Bill's performance, she was not paying attention to a set of stairs in front of her, tripped on them, fell down, and broke her wrist. She didn't tell Bill, just went to the hospital and came back to hear the El Cerrito High School big band perform!