'Gem of a singer' reveals new facets of old favorites
by Chuck Reider
Labor Day. Our great American holiday is the perfect weekend to showcase the Great American Songbook. Many singers visit the Great American Songbook, but it is the gifted singer that can present a gem of a song in a new light by changing the angle a bit to reveal new facets.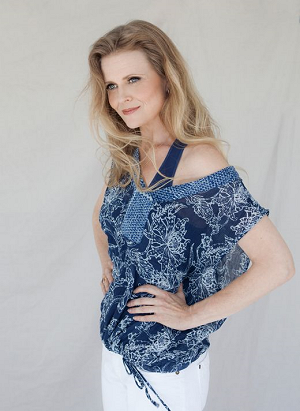 Eight-time Grammy nominee Tierney Sutton is truly one of those gifted singers. The Reno Jazz Orchestra is pleased to share the stage with Sutton on Friday, Aug. 31 at the Cargo Concert Hall in the Whitney Peak Hotel and Saturday, Sept. 1 at the Sand Harbor Amphitheater in Incline Village. Sutton is heralded for her abilities as both a jazz storyteller and her ability to use her voice as an instrument. She has been a member of the Los Angeles jazz community for 26 years and has performed with the Tierney Sutton Band for 25 years (more on that later).
Writing these articles, I have learned jazz comes to captivate musicians in different ways and sometimes in a single moment. For Sutton, it was not until college while working as a singing cocktail waitress. One night she decided to check out the club across the street where jazz pianist Mary Jaye and her trio performed. She immediately loved it.
The moment, the experience that captivated her, came during a Betty Carter concert at Wesleyan University. Carter was a consummate jazz vocalist who always chose great jazz musicians to work in her trio. That night pianist Benny Green, bassist David Penn and drummer Lewis Nash, along with Carter's creative song interpretations and vocal jazz improvisation, enchanted Sutton and the die was cast.
Her jazz career started shortly after singing Friday nights with a pianist. After graduation she moved to Boston to study jazz at the famed Berklee College of Music, but her stay was short-lived as she knew it was time to move to New York or Los Angeles. When some theater friends invited her to join them in a move to LA, she said yes. As it turned out, that simple yes was a great decision.
Studying jazz and jazz singer Sarah Vaughn was a big early influence, but Sutton knew right away Vaughn's voice was not hers. In fact, Sutton started listening to jazz instrumentalists like John Coltrane and Cannonball Adderley to learn jazz phrasing and improvisation. She realized each singer's voice is an individual instrument and to imitate another's "instrument" would not develop her own.
Having settled into the Los Angeles jazz scene, Sutton released her first recording in 1999, appropriately titled "Introducing Tierney Sutton." The band on that CD is the band she works with to this day 20 years later! Christian Jacob (piano), Trey Henry (bass), Kevin Axt (bass), Ray Brinker (drums) and of course Sutton are an incorporated entity called "The Tierney Sutton Band". Though her name is out front, all music and business decisions are made as a group.
Her first LA gigs she would hire the band, give them the name of the song and the key and tell them to "play what you want". To make that work, the band and singer must really listen to one another and communicate musically in the moment. That was the beginning and continues to be why their musical relationship is so successful. Ideas for new material can come from many sources, for example, during a soundcheck she may follow the lead of the bassist and drummer and join in singing. An idea for a song was born.
Most of her performances are with the band, but when she comes to perform with the RJO she is coming by herself and bringing some great big band arrangements. Singing with a big band is a different animal as she looks for spontaneity with the big band, but says it is a little like standing in front of a moving train. Sometimes you have to get out of the way. Living in LA and being a part of the jazz community for over 20 years, she has had the opportunity to meet and work with great big band arrangers.
Arranger Chris Walden heard her and pianist Christian Jacob perform "Only the Lonely" as a duet during a Hollywood Bowl concert. Walden asked her if he could write her an arrangement and she is bringing it with her. A gorgeous arrangement. Dave Richards heard Sutton's CD "After Blue," a collection of Joni Mitchell songs, and asked if he could write some arrangements based on the small band recordings. You will hear "Little Green" and "Dry Cleaner From Des Moines." Christian Jacob also arranged "I Get A Kick Out of You" based on the band's recording. Remember that Sarah Vaughn was big early influence? Sutton met legendary arranger Sammy Nestico after a Palm Springs jazz festival and he offered her two arrangements he wrote for Vaughn, "Ill Wind" and "Just Friends."
As if performing and recording are not enough, Sutton is also a well-respected jazz educator. She taught eleven years at the University of Southern California and in 2008 became the Vocal Department Chair at the Los Angeles Music Academy. Last year Sutton taught in the esteemed Jacobs School of music at Indiana University
The Tierney Sutton band is currently working on their twelfth CD with songs for film as the theme. Many of their recordings have a theme such as "The Sting Variations" (Sting), "Dancing in the Dark" (Frank Sinatra), and of course "After Blue". Don't expect faithful re-enactments of great songs, but rather adventurous reimagining of songs we all know. But that is the mission of a great singer — to take what we know and reveal those new facets.
If you have seen the movie "Sully", then you have heard the Tierney Sutton Band. Clint Eastwood is a longtime fan of the band, so much so he asked them to write the soundtrack. The band watched the movie scene by scene to develop melodies and moods around the theme.
"Clint was there every step of the way," Sutton Said. "It was really collaborative. It was very much 'Clint joins The Tierney Sutton Band.' He doesn't do it by micro-managing. He gives a suggestion and trusts that you'll make the right decision."
Eastwood wrote the theme music and Sutton could not get it out her head so with help from lyricist J.B. Eckl, she wrote the words to "Flying Home" with a bit of additional help from Eastwood.
This is not Sutton's first performance with the RJO. Three years ago at our holiday concert she charmed the audience (and the band) with her songs and her wit. At one point she came up with nicknames for each member in the rhythm section to the delight of all. Don't miss Tierney Sutton this Labor Day weekend. She is a gem of a singer!
Chuck Reider is the music director of the Reno Jazz Orchestra.