by Chuck Reider
The Reno Jazz Orchestra's mission (RJO) is focused on jazz performance and education. My article this month introduces you to three Reno musicians who graduated from UNR, performed with the RJO, and are now out in the world creating new music for this generation.
Brian Landrus was introduced to jazz at Swope Middle School, graduated from UNR in 2002 and while at UNR performed with the RJO. He applied to the New England Conservatory of Music because he wanted to study with legendary jazz composer Bob Brookmeyer. He was accepted and started studies the fall of 2004. Three years and two masters' degrees later he felt it was time to move to New York City though he did not know many NYC jazz musicians. He came with a newly recorded album and experience performing with the Maria Schneider jazz orchestra. Practicing six hours a day, six days a week he became a rare, in these days, multi-instrumentalist master. Branching out from his baritone saxophone you can hear him on a variety of clarinets, flutes, and saxophones including the bass saxophone. During this time, he went to every jam session he could. There he grew his musicians' network leading to work in Broadway shows. Many would be content performing on Broadway, but not Landrus. He continued to compose and produce albums and six years ago started a quest for a PHD at Rutgers University. This started his university teaching career as well and he recently earned that PHD.
I am pleased to let you know Landrus has accepted a tenure track position at Sacramento State University and will begin teaching in the fall. He met Sac State jazz professor Steve Roach eight years ago as adjudicators for the Reno Jazz Festival and they have kept in touch. Knowing him and other professors there he applied and was pleasantly surprised when his former McQueen high school band director, Clay Redfield, was on the interview panel. What sealed the deal for Landrus was that they encouraged him to keep active in the international jazz scene and that he will be conducting the jazz orchestra. He will stay in his Brooklyn home and commute to teach. He is staying to help raise his two young children and as he says, "the New York jazz scene is food for the soul where I can perform and record with my jazz heroes." Speaking of jazz heroes, on May 15th he released "For Now", his tenth album as a leader on his BlueLand label which featuring two of his heroes, pianist Fred Hersch and drummer Billy Hart. Accolades are coming in as it is a Downbeat Magazine Editor's pick and JazzTimes calls the album excellent. It features his jazz quartet joined by a string quartet and a couple of drop-in guest soloists.
His next project is a big band album of original compositions. Through the years he has written many big band charts but his studies as a PHD candidate changed his approach to composition. He will compose all new material using a standard big band orchestration. Landrus feels very lucky to have grown up in Reno where he had the opportunity to play in showrooms, learn and perform with the UNR jazz faculty, and make his first recording on baritone saxophone with the RJO. Most importantly, he says, was/is the support of his parents and grandparents.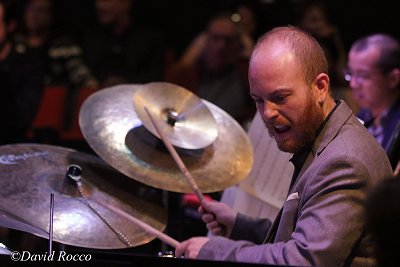 I next spoke with Greg Lewis, a 2016 UNR graduate, where he studied percussion with Dr. Andy Heglund and performed in student UNR jazz ensembles. Instead of heading off to graduate school he stayed in Reno for a couple of years to "digest" his studies and apply them in local jazz ensembles. Lots of jam sessions at the Laughing Planet, the Loving Cup, as well as gigs at the Reno Little Theater. While attending UNR, the jazz faculty brought in many California Institute of the Arts (CalArts) ensembles to perform and they intrigued Lewis. UNR jazz faculty members Peter Epstein, Adam Benjamin, and Ralph Alessi are all Cal Arts graduates and their inspiration encouraged him to apply. In 2018 he went to Cal Arts to check it out and meet with drum instructor Joe LaBarbera. He was convinced this was the place and started his master's degree this past fall. There he began working with animators composing soundtracks, bringing drums in the dance hall to improvise with dancers, learning Indian music and the tabla, and west African drumming. Wow, and that's just at CalArts. In Los Angeles there is a small community of Reno musicians he hangs out and gigs with. For example, Lewis is in a surf rock band with UNR graduate Eric Johnson. He is also in an Armenian folk group that incorporates jazz elements. He and fellow UNR grad Cameron Sax are an experimental rock duo called Rob Ford Explorer.
He gives thanks to Leonard Neidhold, his Billinghurst band director, UNR's Dr. Andy Heglund, the UNR jazz faculty, and the Reno Youth Jazz Orchestra. He would not be on his music exploration without them.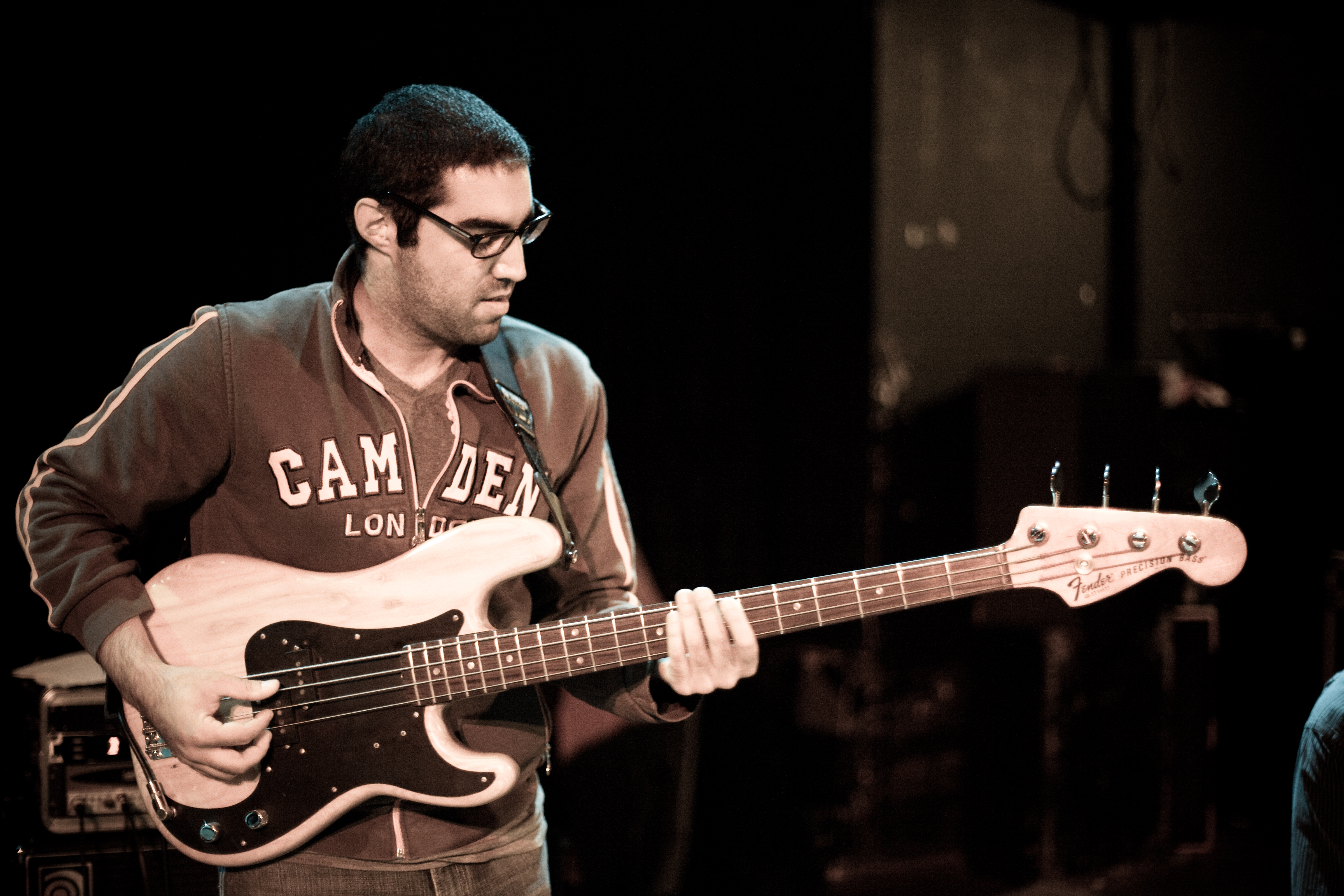 Reno native bassist Sam Minaie graduated from UNR in 2005 and moved to Los Angeles to attend, you guessed it, CalArts where he earned a Masters of Fine Arts. With bass players at a premium for jam sessions he worked every night and met a lot of great musicians. After graduation in 2008 he met pianist Tigran Hamasyan and began touring extensively with him. Moving to New York was always his goal and touring made his 2009 move there much easier. He loves playing all types of music from jazz to hip hop and even metal, bringing his acoustic bass or electric bass as needed. His approach, he says, is the same for any genre and does not put each genre into separate boxes. Pre-Covid-19 he was on the road two hundred days a year with several different groups. Currently he is Melody Gardot's bassist and Music Director when she performs with symphonies or big bands.
When Minaie is not on the road he mixes and masters albums, the basics he learned as an intern at International Gaming Technology. He considers himself an "aggressive" mixer where even when mixing acoustic instruments he adds ambience and subtle effects to highlight the instrument. He does this at his home in Queens, but when recording musicians, he books time at a recording studio. Minaie is busy working in the studio with full album assignments about every six weeks. His most recent project, "True Believers", is a trio album on which he played bass. Guitarist Brad Shepik brought Minaie and world percussionist John Hadfield for a Ralph Towner tribute concert. The vibe was so good they formed the group Believers and recorded this album. Minaie also mixed and mastered (optimize the sound for CDs) the album. Check out his turn as bandleader on the 2011 release "Heyo". He has begun writing material for a new record and enjoys writing for specific musicians. I am really looking forward to hearing that album. Of course, Covid-19 has stopped touring for a while so when not in the studio he and his wife have a chance to work in the garden.
Not sure when I became a veteran musician, but what thrills me is seeing how Reno has fostered great musicians who are creating new and exciting music in the world. That is what jazz is all about.
Chuck Reider is the Music/Executive Director of the Reno Jazz Orchestra