By Chuck Reider
I love jazz and I appreciate the opportunity every month to share my passion for this great American art form. Jazz, like rock, has its roots in the blues. Did you know a hundred years ago Victor Records recorded the first jazz recording and that it was a blues? "Livery Stable Blues" by the Original Dixieland Jass Band introduced America to jazz and it sold over a million copies. Later in 1917 the band changed jass to jazz, which at the time described a baseball player "pep" and it has been jazz ever since. All forms of American music have their roots in the blues and the 18- piece Reno Jazz Orchestra's (RJO) Artown performance at Wingfield Park July 29th celebrates the blues in all its many forms and styles. If you can't join us on the 29th you can catch us at Sand Harbor July 31st.
Let's talk a little bit about the blues. It predates jazz, but the origins are vague as blues songs were a part of an oral tradition and not written down. We do know in 1908 "I Got the Blues" was the first published blues song. Early blues legends Jelly Roll Morton, Ma Rainey, and W.C. Handy brought blues to the general public through recordings, the first being W.C. Handy's 1912 recording of "The Memphis Blues". Twelve-bar blues is the standard, three lines of lyrics in which the first line is repeated for the second and then the third line is new. One of my favorite all-time blues recordings is Taj Mahal's version of "Divin' Duck Blues" written by Sleepy John Estes. Here are the lyrics; first line, "If the river was whiskey and I was a divin' duck" which is repeated, "If the river was whiskey and I was a divin' duck" and the third line, "Lord, I would dive to the bottom and never come up". Simple… but so effective that for over one hundred years musicians still use this form. The blues started in the south and migrated to Chicago when work in factories attracted African-American men and women to move from the south. In Chicago during the 1950s and 1960s Muddy Waters and Howlin' Wolf made their name. The blues may have faded away, but English rockers heard these recordings and began performing them in the 1960s. The Rolling Stones and Cream are just two examples of bands reinvigorating the blues and introducing the next generation to the blues. This is how I discovered the blues and my curiosity took me back to listen to the great original artists like Muddy and Howlin' Wolf. If you have not heard of them, check them out.
Great singers bring the blues to life and we are blessed with great vocal talent in the Reno-Tahoe area. It is a thrill that five of my favorite local singers are joining us for this concert. Some have performed with us several times and some are joining us for the first time so let me introduce them to you.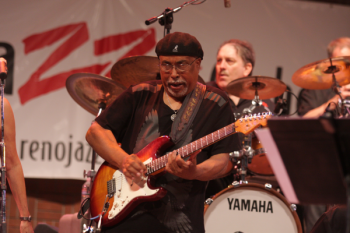 Trey Stone lives in Tahoe and in 2015 was inducted into the Rhythm and Blues Hall of Fame. He earned that honor by being the behind the scenes songwriter/guitarist/vocalist on such great tunes as the Undisputed Truth's "Smiling Faces" and Rose Royce's "Car Wash". He co-produced recordings with Bootsy Collins and George Clinton and in 2006 toured with Tower of Power. You can hear him on our 2014 live CD "Bring Me the Funk of James Brown". Pat Esters has performed with us on several of our programs "The Jazz Soul of Porgy and Bess", "Bring Me the Funk of James Brown" and last year's "A Gospel Christmas". She is active in Reno's gospel music scene and has produced several of her own recordings.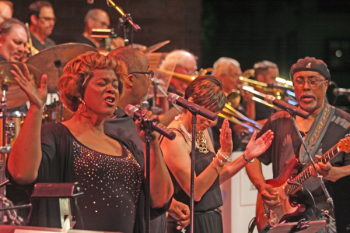 If you have heard Pat you know when she feels the spirit she brings the house down. Lori Johnson is also involved in gospel music and Pat suggested she direct the Gospel Christmas Choir. A great call as she directed and arranged the vocals for that concert. The concert was a great success as a direct result of her knowing what she wanted from the choir and knowing how to get it. She is also a great vocalist in her own right and was a featured singer in Porgy and Bess. Lori Johnson invited David Wells to join the choir for our Gospel Christmas concert and his performances of Let's Stay Together and Little Drummer Boy captivated the audience. I immediately became a fan and when you hear him I'm sure you will become a fan as well. This will be Carolyn Dolan's first performance with the RJO. I met her shortly after she finished her newest CD which she gave me to check out. I listened and heard a great voice singing a wide range of styles from jazz to country and western. Not only that she plays a mean harmonica. She was inducted into the Western Swing Hall of Fame in 2015 and at the RJO's annual house concert fundraiser this June her performance of Everyday I Have the Blues knocked out the audience.
I've talked a bit about the blues and our featured singers, now let's talk about what to expect during "Roots in the Blues". We will kick things off with a medley; a Delta blues featuring Pat Esters, a Chicago blues featuring Trey Stone, and a funky version of Steamroller Blues featuring David Wells. Up next, is Duke Ellington's Jeeps Blues featuring lead alto saxophonist Jonathan Phillips. From there you will hear Willie Dixon's "Spoonful" made famous by Cream, Carolyn Dolan's version of "Your Cheatin' Heart" and a pair of Stevie Wonder tunes. I need to leave some surprises so I will not share the entire program, but I will let you know we will end our tour of the blues with a pair of Aretha Franklin classics featuring Pat Esters. Most folks think of the blues as only being sad, but the great B.B. King said, "The blues are three L's - living, loving and hopefully, laughing." And with him I heartily agree.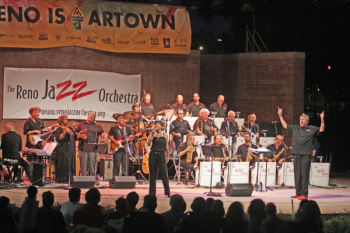 The RJO is proud to have been a part of Artown for over fifteen years and hope you all can join us 7/29 at Wingfield Park for Roots. If you can't, there are still tickets available for our Roots in the Blues performance 7/31 at Sand Harbor. Purchase your tickets now!