Today's article focuses on the "new". Two trumpet players and a first time Reno Jazz Orchestra (RJO) performance in Minden.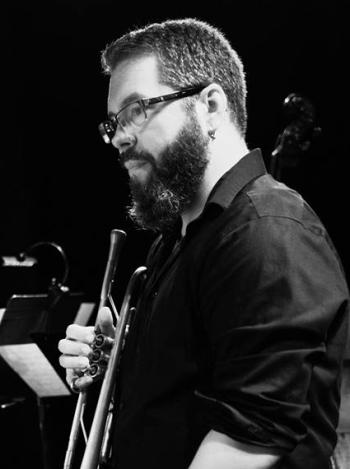 Trumpeter Josh Reed is the newest addition to the University of Nevada, Reno's (UNR) jazz faculty. He is UNR's jazz trumpet instructor and director of their big band. He has a strong pedigree with a Bachelor of Music from James Madison University, a Masters from the Eastman School of Music and a doctorate from the University of Colorado, Boulder, but it is passion and dedication to his craft that makes him such an asset to the Reno music community.
Growing up in Virginia Beach, Virginia his mother, a piano player and teacher, got him started on the piano. But he was not attracted to the piano and it was at eleven when his middle school band director asked him to try the trumpet did his music interest blossom. Through middle and high school Reed did not play jazz and was studying classical trumpet. It was not until he auditioned at James Madison University did jazz come into his life. Two professors, Chuck Dotas and David Pope, heard his audition and began his jazz education giving him five to ten jazz CDs to listen to each week. There he earned his music industry degree. Wanting to get even deeper into jazz he went to the Eastman School of Music where, as Reed says "they kicked my butt!" The musicianship and expectations were at such a high level he was challenged every day to improve. During his stay he developed musical relationships that continue to this day. Clay Jenkins and Bill Dobbins were his Eastman mentors and showed him the path on how to be a professional musician.
With a master's degree in hand it was off to Brooklyn to give the New York jazz scene a try. The four years there were another great music experience that he carries with him today. Deciding to earn a doctorate he enrolled in the University of Colorado, Boulder where Brad Good, his trumpet instructor, gave him a whole new approach to trumpet playing and a deep dive into jazz history. Here he met the great pianist Art Lande and hung out with Lande for a couple of hours every week to play and talk jazz.
While teaching at Santa Clara University Reed heard that UNR's jazz trumpet instructor Ralph Alessi was leaving UNR and since he was familiar with some of UNR's jazz faculty he decided to apply. Lucky for us he was accepted and has immersed himself in Reno's jazz community. His advice to students is to be prepared for anything that comes your way. Broadway shows, small group improvisation or big band sight reading. When a door of opportunity opens be prepared to jump in and go! There are still paths to performing professionally. Reed continues his own music path and will be recording a new CD this summer in Colorado with drummer Dave King (of the Bad Plus), Reno native Zach Teran on bass, and Tim Wendel on guitar. He continues to perform with Eastman school music cohorts playing with clarinetist Anat Cohen's tentet. While Reed is new to Reno, a recent UNR jazz studies graduate is planning on moving to further his jazz career.
Listen to some of Josh Reed's music samples.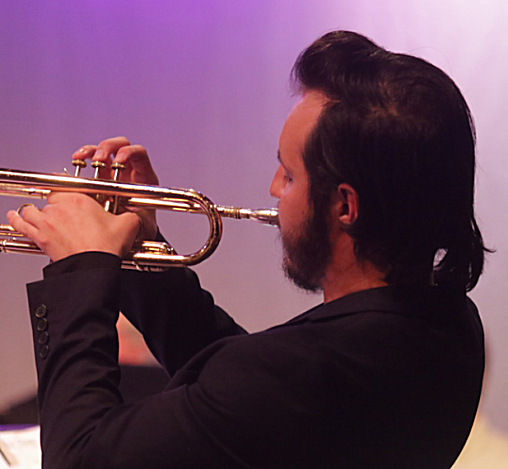 Julien Knowles fell in love with music at an early age. His parents bought his older brother a Casio keyboard when Knowles was six, but younger brother kept stealing it away to his room to play. A little older, Knowles wanted to play the drums, but mom and dad said they were too loud. It was the fifth grade that the trumpet came into his life when his elementary school band director, Ed Hull, steered him away from the drums and to the trumpet. From that moment until today Knowles is fascinated with playing the trumpet. Up early every morning to make the 6:30 am band session at school where Hull would play some music and then for thirty to forty minutes teach the students music lines by ear. Knowles had no jazz lessons growing up in Fresno, but his mentors showed him a path to follow. Hull introduced him to the music of Louie Armstrong. John Ayala introduced him to Jamie Aebersold recordings to practice improvisation. Brian Hamata, father of Knowles' best friend Evan, would always provide constructive feedback after each of Knowles school concerts.
It was another mentor, UNR Professor Larry Engstrom, that convinced Knowles to come to UNR to formally study jazz. Engstrom and Knowles' father lived across the street from one another growing up in Kingsburg California. When Knowles started coming to the Reno Jazz Festival to perform with his high school band Engstrom heard him play, was impressed, and decided to recruit him. Though Knowles considered several other universities he decided that UNR offered the best jazz program and scholarship opportunities. This was his first formal jazz education and learned from instructor Hans Halt the theoretical knowledge of what he was playing. Knowles would choose notes that sounded good but did not know why until his formal studies! When Engstrom moved to a more administrative capacity Knowles spent more time with instructors Adam Benjamin and Peter Epstein. They opened his ears to more and very different music from pianist Keith Jarrett and guitarist Bill Frisell, to non-jazz musicians like composer Steve Reich and pianist Glenn Gould. Knowles noted that what is special about the UNR jazz faculty is their commitment to more interactive relationships with the students. They like to spend time outside school hours hanging out talking jazz and playing jazz with their students. With a Bachelor's Degree in hand, Knowles is looking forward to the next phase of his music career, specifically graduate studies.
He has applied and been accepted to audition at two of the nation's premier jazz studies programs. First, the Herbie Hancock Institute of Jazz at UCLA where only a select number of students are accepted and earn a full two-year scholarship. For the audition you must have memorized twenty jazz tunes and be prepared to perform them in front of legends Hancock and Herb Albert, among other stellar jazz musicians. That sounds intimidating to me. Or how about the New School's College of Performing Arts in Manhattan, the heart of New York City's jazz scene. Knowles has an upcoming audition there as well.
I believe music will always be at the center of Knowles' life. After his studies he wants to travel the world playing his music and experiencing new music. His goal, through his music, is to share an emotional experience with the audience. Whether it is straight ahead jazz, pop, avant-garde, or big band that connection is always the goal. We wish him all the best and I personally can't wait to see what comes next.
March 13th at 7 p.m. the RJO is performing at a new venue for us, the CVIC Hall in Minden as a part of the Carson Valley Arts Council (CVAC) concert series. This includes an afternoon jazz workshop with Douglas High School students. Founded in 2004 the CVAC recently celebrated its 15th anniversary. CVAC implements year-round programming including Youth Arts Education Outreach, a component that brings high quality arts programming into Douglas County Schools; Arts Incubator (a business incubator concept developed to help artists and arts organizations) and the Copeland Art Gallery, featuring exhibits at the Copeland Cultural Arts Center. Tickets to the Minden performance are available for purchase online.
Chuck Reider is the Executive Director of the Reno Jazz Orchestra