by Chuck Rider
Artown has wrapped up and the Reno Jazz Orchestra (RJO) was honored to present "The Queen of Soul, A Loving Tribute to Aretha Franklin" to our community at three venues to full houses. Over the thirteen years of being the RJO's Music Director people have gotten to know me and when out and about I will often hear, "hey, you're the jazz guy". A moniker I am happy to wear. It is the support of the community over our twenty-two years that allows us to bring great American music to the Reno/Tahoe area. That support has enabled us to bring one of the country's greatest singers this Labor Day weekend to the Pioneer Theater and the Sand Harbor Amphitheater. His name is Kurt Elling and if you don't know the name let me introduce you.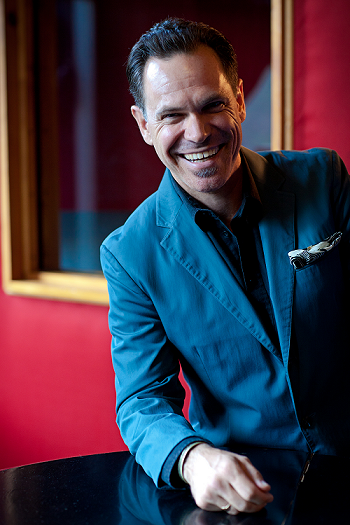 I could start with all the awards and accolades he has received, but instead let me tell you about him and his American music journey. His father, a Lutheran church choir director, introduced him to music and Elling cannot remember a time before singing. Growing up he sang in the church choir and played a variety of different instruments. In middle school he remembers seeing Tony Bennett and the Woody Herman big band on television and wondered what it would be like to sing in a band. But that would only come much later. In high school he continued his choir career even "When it was undeniably uncool and geeky and all that, to be the choir, I did it anyway, because it was reliably beautiful, and it was rewarding, and it gave me gifts of experience and friendships." He continued his choir career in college touring with the seventy-voice Gustavus Adolphus College a capella choir. Here he studied history and minored in religion, but it was also here that students down the hall were playing Herbie Hancock, Ella Fitzgerald, and Dexter Gordon. After some intense listening he started sitting in with some small groups in the area. After graduation he continued studies at the University of Chicago Divinity School studying the philosophy of religion. No thought of a jazz career until he started playing a once a week jazz gig. Elling recalls, "By day I was reading Kant and Schleiermacher, trying to get a handle on that, and at night I was sitting-in in clubs, and, of course, you can't do both and be effective. Eventually Saturday night won out over Sunday morning." He left school one credit short of graduation! Fortunately, for all of us in the music world Saturday night was the winner and a great jazz career began.
Elling immersed himself smack dab into the middle of the jazz life, something the jazz world calls payin' dues. He worked as a bartender, a mover, sang at weddings and playing in as many clubs as he could. Always creative, during weddings while the band was playing something like "Isn't it Romantic" the leader would whisper in his ear "Tell them that they're going to cut the cake now," or "five minutes to the bouquet toss" He wouldn't stop singing and make an announcement. He would incorporate that message right into the song. He was so good at that a friend coined the term "ranting", a uniquely Elling idiom he continues to this day. It is called payin' dues for a reason and here are Elling's words to the wise. "Be prepared to work harder than anyone you know - not just as an artist, but also as a businessperson. No one is out there throwing recording contracts around. Even if you land one, you will have to struggle to make the best possible recording on a tiny budget, struggle to get it heard, struggle to get many critics to feel it is important enough to write about, struggle to keep your band together, struggle to get gigs, struggle to get TO the gigs . . . Do not be fooled. This is no easy life." By 1995 he decided he was ready to record an album, so he went into the studio and recorded nine songs which made their way onto a cassette recording that ending up on the desk of Blue Note Record's Bruce Lundvall. His first album, "Close Your Eyes" introduced Elling to the music world and earned him his first Grammy nomination. Since then he has recorded twelve albums as a leader, earning a Grammy for "Dedicated to You: Kurt Elling Sings the Music of Coltrane and Hartman'. He has been a featured artist on a multitude of other albums from the likes of the Yellowjackets, Branford Marsalis, Bob Mintzer, and Lee Ritenour. I think now is the time for some accolades… Elling has won the Down Beat Critics Poll thirteen times, from 2000–2012, and the Down Beat Readers Poll seven times and the JazzTimes Readers' Poll eight times, all in the Male Vocalist of the Year category. He has also received the Jazz Journalists Association Male Singer of the Year award eight times.
I was drawn to Elling's music because it does not recognize boundaries. He embraces American music and culture. Something the great Duke Ellington expressed in the phrase "There are only two kinds of music. The good kind…. and the other kind". My wife and I had the opportunity to see Elling and his quintet at Ronnie Scott's, the legendary jazz club in London last October. He opened with Bob Dylan's "A Hard Rain is Going to Fall" a capella. He captivated the audience before his quintet played a single note! He regularly travels with his quintet, but check out his website: in the Czech Republic performing with the South Czech Philharmonic, touring China with the NYO youth orchestra, or Ronnie Scott's 60th Anniversary Gala in London's Royal Albert Hall. Elling's four-octave baritone voice is the perfect vehicle to bring his vast musical repertoire to life. From Gershwin to Carole King, Stevie Wonder, Miles Davis, Sinatra and back to John Coltrane Elling's musical journey is an American treasure not to be missed.
That is why this jazz guy can't encourage you enough to come see Elling and the RJO 8/30 at the Pioneer Center or 8/31 at Sand Harbor. No need to travel the world to find him, he will be right here!
Tickets and more information at www.renojazzorchestra.org
Chuck Reider is the Executive Director and Music Director of the Reno Jazz Orchestra.
---
Some music: Kurt with a big band
Come Fly With Me
I Can't Give You Anything but Love
Nature Boy
Tootie for Cootie
My Foolish Heart
American Tune (from his recent CD "The Questions")