An evening with Denise Donatelli and the Reno Jazz Orchestra
By Chuck Reider
Jazz has had a long love affair with the song. All styles of American music from Tin Pan Alley and Broadway to rock, soul, blues, and country all find their way into the jazz lexicon. Jazz musicians and vocalists thrive on choosing songs and then personalizing that song with new interpretations. A slow ballad turns into an up-tempo samba or a fast swinging tune is slowed way down to a heart wrenching ballad. That is the joy and challenge of jazz artists to reinterpret and make the song their own and expose a new previously unexplored facet to that song. This Labor Day weekend the Reno Jazz Orchestra celebrates the art the American song through jazz "eyes" with Grammy nominated vocalist Denise Donatelli.
I had the pleasure of speaking with Denise for this article and what struck me was perhaps she was preparing for a career as a jazz vocalist all her life, but did not know that until one evening a friend took her to a jazz jam session. Here is why I think that.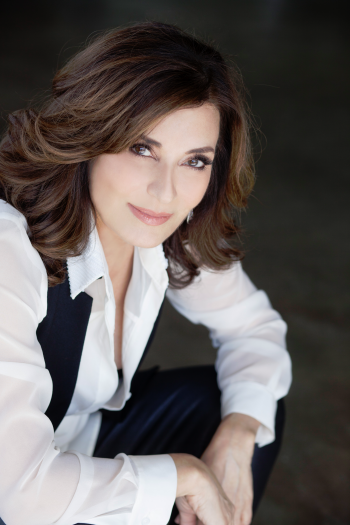 Denise grew up in rural Pennsylvania and jazz was always on the turntable (anybody remember LPs?). Though she studied classical piano she knew at a young age classical music was not for her. She put aside music performance, got married and moved to Atlanta Georgia to raise a family. But she was always listening to jazz vocalists and singing at home, never thinking of a career as a singer until that jazz jam session night. Her friend, a pianist, would come over to her house and they would pick tunes for her to sing just for fun and he would tell her what key she sang them in. So that night he wrote on a piece of paper "Denise Donatelli - I Thought About You in the key of G" and gave it to the band leader. Denise was mortified as she had never sung in public, but when her time came she sang it on stage. She must have been pretty good because the music director for the Ritz Carlton was in the audience that night and hired her on the spot for a steady job singing at the hotel.
For Denise, as with all great vocalists and musicians, listening is key. She is always listening to songs and making a list of those that intrigue her. That is how she comes up with material for her CDs. She will have a list of fifty or more songs which she narrows down to fifteen and sends them on to her collaborator pianist Geoffrey Keezer. He narrows the list some more and then together they decide on the songs and arrangement ideas for Denise to record. This is an iterative process until they come up with ten to twelve arrangements to songs that are distinctly Denise. Then it is time to hit the recording studio to make a CD. She is just starting a new project and is checking out material from the soulful "Philly Sound", Bonnie Rait and Motown to name a few musical ideas. I would like to take a peek at her list to see what might be on her next CD.
Denise primarily performs with a trio (piano, bass, and drums) but has been expanding her horizons into big band and orchestral performances. She is featured on Bill Cunliffe's soon to be released big band CD "BACHanalia" and will join Bill for the east coast release 9/28 at the Ryles Club in Boston. She recently performed with the Czech National Symphony Orchestra in Prague. Her good friend, legendary trumpeter, Bobby Shew invited her to do the gig and of course how could she say no. There was a mad dash to write arrangements for an orchestra so Bobby enlisted the help of pianist Matt Harris. They got it all done in time for rehearsals and performance and the result will be a video of that performance. Matt, in fact, will join Denise with the RJO as her Music Director. All of this is great news for the RJO as she is bringing all these wonderful new arrangements to perform with us.
At the top of the article I wrote about how jazz artists like to personalize a song. Here is an example. Let's take Harold Arlen and Johnny Mercer's great song "My Shining Hour" written in 1943 for the movie "The Sky's the Limit". The movie version, as sung by Fred Astaire, was a light mid-tempo swing. With an arrangement by Billy May, Ella Fitzgerald slowed the tempo down while saxophone great John Coltrane turned it into an up-beat swing to feature improvisation. Vocalist Nancy Wilson took it up tempo with a jazz trio. Drummer Roy Haynes started it out with a chamber music quality before swinging it and how about Stan Getz's version with the Boston Pops under the direction of John Williams. I asked Denise how she created her version of My Shining Hour. During the recording session of her second CD, pianist/arranger Keezer wrote the arrangement but the tempo didn't feel quite right the first time around … the count off was a bit too fast. So after several different takes at different tempos, she and the band decided that the up-tempo approach felt the best and off they went! Denise had her version arranged for big band (which we will be performing) and the arranger transcribed the sax solo from the original recording for Denise to sing with the saxophone section. In jazz, variety is the spice of life.
If you love the great American songbook and want to experience a great singer interpreting great songs come join the Reno Jazz Orchestra and Denise Donatelli September 1st at the Cargo in the Whitney Peak Hotel or September 2nd at Sand Harbor. To learn more about Denise visit her website http://denisedonatelli.com and to purchase tickets for either performance visit http://www.renojazzorchestra.org/