JAZZ FOR THE HOLIDAYS
A GOSPEL CHRISTMAS
Featuring
The Reno Jazz Orchestra 
In Concert with
The Pat Esters Gospel Choir
and Reno Youth Jazz Orchestra
---
A Gospel Christmas
"We draw great inspiration from each other," Reider said as he referred to the Gospel Choir. This show is like nothing you ever experienced before. It speaks to lovers of jazz and holiday music."
"Last year's Gospel Christmas Show with the RJO was such a success we decided to bring it back to the Reno and Lake Tahoe region," said Chuck Reider, Music Director. 
This year's performance at Squaw Valley is just part of their annual "Merry Days and Holly Nights" festivities.  Throughout December, the community offers seventeen days of merriment with music, arts and more for locals and visitors alike. 
The Pat Esters Gospel Choir
Lori Johnson, Choir Director
Sopranos
Marsha Dupree
Telisha Hutchinson
CeCe Lewis
Altos
Pat Esters
Sheila Leijon
Sean Lyons
Kristina Rucker
Tenors
Stanley Bailey
Tristan Hutchinson
David Wells
Bass
Ryan Kinelski
John Palmore
The Reno Youth Jazz Orchestra
It has become a tradition for the RYJO to open the show each year for the RJO's annual Jazz for the Holiday concert at Nightingale Concert Hall. Be sure to come early to catch this talented local ensemble.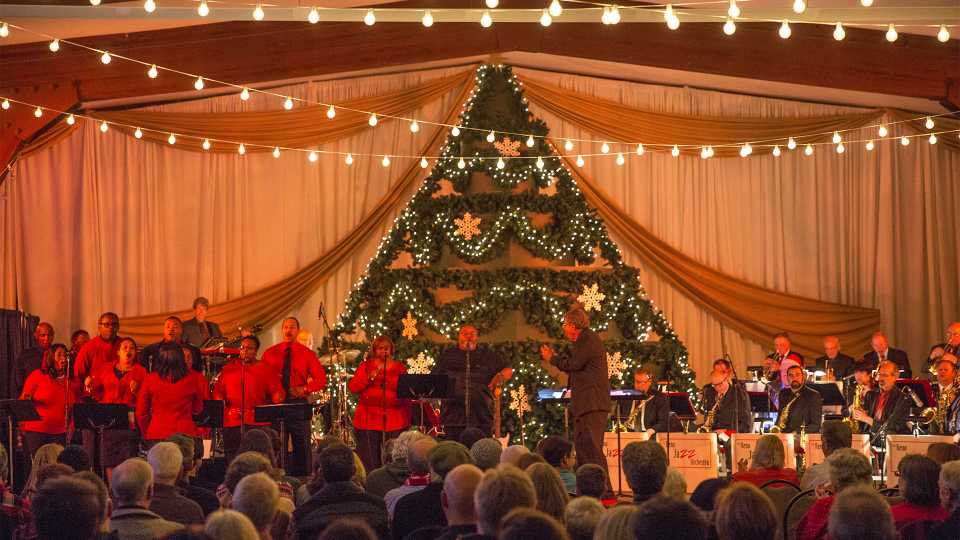 To find out more about the "Merry Days and Holly Nights" celebration at Squaw Valley/Alpine Meadows, visit their official website.
Explore the interactive map of The Village at Squaw Valley.
Map to Olympic Village Inn
The Reno Jazz Orchestra
Chuck Reider, Music Director
Trumpets
John Beckman
Josh Dunlap
Terry Burns
Andrew Woodard
Trombones
Dean Carter
Rich Lewis
John Bennum
Cody Forcier

(bass trombone)
Saxophones
Jonathan Phillips,

alto 1
Dallas Smith, alto 2
Jim Garaventa, tenor 1
Chris Gillette, tenor 2
Jack Scarbrough, baritone
Rhythm Section
Bryan McAllister, piano
Andy Heglund, drums
Hans Halt, bass
Joey Berger, guitar
Photography Credits: David Rocco is the official photographer for the Reno Jazz Orchestra's live stage performances.
RJO Contact & Inquiry Information
We invite you to use the handy online form to contact us with your specific topic, questions comments, or booking inquiries.
You can also email us at: info@renojazzorchestra.org
Our Mailing Address:
Reno Jazz Orchestra
14010 Rancheros Drive
Reno, NV 89521
This program has been funded, in part, by the Nevada Arts Council, a state agency, and the National Endowment for the Arts, a federal agency.
The EL Cord Foundation, Nevada Arts Council, National Endowment for the Arts, Art Works, Reno Gazette Journal, Healing Healthcare Systems, Thunder Rand & Co., and the RJO Band Fans and Partners support the Reno Jazz Orchestra's holiday events
Thank you for supporting the Reno Jazz Orchestra!