RENO YOUTH JAZZ ORCHESTRA

Music Is More Than Simply Fun
According to a report published by the Kaiser Family Foundation, Americans between the ages of fifteen and eighteen listen to music an average of 3:03 hours per day. This amounts to more than one thousand hours of dedicated music listening per year. Such findings probably don't come as a surprise for most parents; it's obvious, especially in the digital age, that young people love their music.
As children begin to develop their own unique personalities, music often serves as a powerful tool for personal expression. Philosophers and educators describe the benefits of music education in terms of the positive and decisive development of specific types of skills, including the capacity for learning language, mathematical and spatial comprehension, critical thinking, even interactive skills such as empathy and compassion.
Music programs in colleges and universities often emphasize ensemble participation because ensemble playing promotes interactive social skills like communication, collaboration, partnership, and the ability to express personal ideas within a group dynamic. Ensemble teamwork can even help young students overcome typical fears like public speaking, public performance, and the shyness associated with feelings of loneliness and seclusion.
ENSEMBLE EMPHASIS Music is an intrinsically social phenomenon. To borrow words from the poet, Robert Browning, to be in the presence of a musical event is to feel one's "solitude peopled at once." This is true, not only for the audience, but also for the musician as well. Ensemble playing is an immensely important learning tool for music students. It helps the aspiring musician learn -- hands on -- how to interact socially and technically with other musicians and with a live audience. The dynamic can be studied through texts and visuals, but the act of making music with others in a live setting is the more profound teacher.
The Reno Youth Jazz Orchestra (RYJO) offers young jazz musicians the opportunity to perform together in a variety of ways. The Orchestra has three diverse configurations, including the full orchestra and a small rotating combo. Musicians also have the opportunity to create their own musical collaborations with other members of the Orchestra, as well as receive one-to-one coaching and instruction from experienced and recognized jazz musicians, both locally and internationally.
The Orchestra is a 501(c) (3) nonprofit organization that was established in 2006 as a sister organization of the Reno Jazz Orchestra. Members are selected by audition from the finest middle and high school jazz musicians in northern Nevada. As is the mission of the Reno Jazz Orchestra, the Reno Youth Jazz Orchestra strives to promote and provide local educational and artistic opportunities for jazz musicians. More specific to the Reno Youth Jazz Orchestra, the organization's outreach includes the development and promotion of exciting and challenging educational opportunities for local young performers. The organization strives to provide frequent occasions for playing jazz on the stages of the region's most cherished venues, both as an accomplished stand alone ensemble, as well as a backing band for local, regional and international guest artists. In these ways and more, the Reno Youth Jazz Orchestra quickly established itself as a treasured Reno tradition, and in so doing, is also playing its part in the greater history of American Jazz.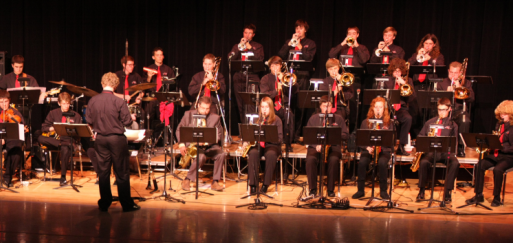 References
Phillips, Carolyn. "Twelve Benefits of Music Education." Twelve Benefits of Music Education. N.p., n.d. Web. 15 Aug. 2014.
Rideout, M.A., Victoria J., Ulla G. Foehr, Ph.D., and Donald F. Roberts, Ph.D. "Generation M2: Media in the Lives of 8- to 18-Year-Olds." The Henry J. Kaiser Family Foundation (KFF). Henry J. Kaiser Family Foundation, Jan. 2010. Web. 15 Aug. 2014.